Gleision tragedy: UK government denies 'complacency' on mine rescue funding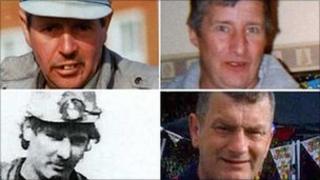 The UK government has rejected a claim it has acted with complacency over a plea to fund mine rescue services.
Neath MP Peter Hain said the service should be allowed to use Treasury resources following the Gleision mine tragedy in which four men died.
He said the rescue attempt in his constituency relied on goodwill.
But the Department for Work and Pensions said any suggestion it did not take the matter seriously was "utter nonsense".
David Powell, 50, Charles Breslin, 62, Philip Hill, 44, and Garry Jenkins, 39, died, and three others escaped when the Gleision drift mine, near Pontardawe in the Swansea Valley, flooded on 15 September.
'Chaos'
In a report on the tragedy, Labour MP Mr Hain said the Mines Rescue Service should be "properly resourced" with access to Treasury reserves so it can do its work "without the chaos and dependence on local goodwill evident at Gleision".
Mr Hain says the operation highlighted a "potentially lethal flaw" in the way the service is funded, with a neighbouring mining company stepping in to pay a £4,500 bill for diesel to drive water pumps.
Replying to the report, Work and Pensions Secretary Iain Duncan Smith says neither the rescue attempt nor subsequent recovery operation at Gleision were hampered by a lack of funding.
"The mines rescue activities could not have happened without the release of additional resources from other mines, but the principle of mutual help is fundamental to the Mines Rescue Scheme," he says.
He says the service is a private company which has found new sources of income to replace falling receipts from a shrinking coal industry.
An investigation into the Gleision mine incident is being carried out by the Health and Safety Executive (HSE) and South Wales Police.
A Department for Work and Pensions (DWP) spokeswoman said: "We take this very seriously and any suggestion we don't is utter nonsense.
"We have offered Peter Hain a meeting with ministers and we will obviously discuss with him any issue arising from this tragedy.
"The HSE and police are continuing their investigation and we will await the outcome of that report, which is the right and proper thing to do."
Mr Hain told the Guardian that the DWP had showed "serious complacency and a total lack of understanding of mining".
The government's response "merely papers over some very wide cracks revealed at Gleision which, without proper government action of the kind I requested, could lead to a serious erosion of mines rescue capability threatening the lives of miners in the future".