Margaret Thatcher: Former Welsh Tory leader's memories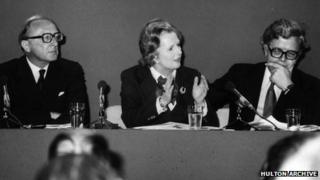 Not everyone loved her, but she will always be respected, says Nick Bourne. The Conservatives' former leader in the Welsh assembly assesses Margaret Thatcher's record - the woman who changed the political landscape and led the Tories to a record tally of seats in Wales.
It is perhaps difficult to realise now the sense of shock in the establishment at the election of a woman as leader of a political party in the west. This was paralleled by a sense of excitement and curiosity at home and abroad.
When Margaret Thatcher defeated Ted Heath in the first round of the leadership election for the Conservative party in 1975, I was a student at Cambridge. She went on to defeat all comers in the second round.
She retained most of Heath's shadow cabinet. There was no lurch to the right. In Wales, Nick Edwards shadowed the Wales portfolio and became Welsh secretary in 1979, a post he retained throughout Mrs Thatcher's first two administrations.
He was to be succeeded by Peter Walker whose tenure lasted from 1987 to March 1990. Mr Walker, though from the opposing wing of the party, was respected by Mrs Thatcher.
Welsh interests
He assumed office as Welsh secretary on the understanding that he was to be given free rein in the nation. Mrs Thatcher agreed and never went back on her promise. She even intervened, to the amazement of Chief Secretary to the Treasury John Major, to provide additional funds for Wales at Mr Walker's request.
Mr Walker was to be succeeded by his protege David Hunt who was still in post when Margaret Thatcher left Downing Street in November 1990. During all of this period, Wyn Roberts also provided remarkable service in the Welsh Office and helped to ensure that Welsh interests were well protected.
Despite popular mythology to the contrary, a record Conservative vote in Wales was recorded in the general election of 1979; later in 1983, a record number of seats was won (14) and 1987 still showed strong support. Conservative support in Wales under Mrs Thatcher was considerable.
Margaret Thatcher's first term in office is perhaps best remembered for two characterising achievements: the economic stewardship along with Chancellor Sir Geoffrey Howe (a Welshman) and the battle against hyper-inflation on the home front; and overseas, the transformational battle to regain the Falkland Islands which had been seized by Argentina's military dictator General Galtieri.
The latter episode showed Mrs Thatcher at her best - decisive, determined and above all successful. No doubt the success in the South Atlantic and the turning economic tide at home led to a public reassessment of her achievements and there followed a remarkable victory in the General Election of 1983 against a left-wing Labour Party and the newly formed SDP Liberal Alliance.
From a Welsh perspective, it is to be noted that Mrs Thatcher was persuaded of the need for a Welsh-language TV channel during her first administration. S4C was born.
Mrs Thatcher's second administration is well remembered for the miners' strike of 1984-1985. I fought the Chesterfield by-election during this period and can well recall the divisions of the time.
Margaret Thatcher once again demonstrated her remarkable qualities of resilience and endurance, this time against the polarising Arthur Scargill whose obduracy and broader political objectives including the overthrow of the government did not in general play well with the electorate.
The eventual return to work of the miners rewrote the perception of an invincible trade union. In Wales, particularly in mining communities, the government and its leader took a predictable knock.
Despite all this, in 1987, the Conservative Party in Wales remained strong and still won 11 seats in the general election which represented, other than 1983, a record high in its post-war achievements.
Overseas, her term of office saw settlement of the Zimbabwe issue, advancement of the single market in Europe and most significantly a breakthrough in east-west relations, which was crucially assisted by her obviously warm relationship with President Gorbachev. The final curtain call for the iron curtain was a consequence of the east-west dialogue of the time and a lasting testament to the politics of the woman that the Soviet Union had dubbed - helpfully from her perspective - the Iron Lady.
Privatisation
Margaret Thatcher's premiership from 1979 to 1990, a record in 20th Century Britain, represented a decisive break with the past.
Trade union reform, privatisation, de-regulation and reduction of income tax rates were all achieved under her leadership. Whatever the political shadow boxing, all are lasting parts of the political landscape in Wales as in the rest of the UK. They remained almost totally intact during 13 years of Labour rule and will almost certainly be retained by any successor government. Indeed they have been copied faithfully in many parts of the western world.
In Wales, despite the loss of jobs in mining and other traditional industries, there was record inward investment.
With just 5% of the UK population, Wales attracted 22% of inward investment projects during 1979 to 1990 and the creation in consequence of 75,000 jobs. There was also considerable spending on public projects - Ysbyty Gwynedd and Wrexham Maelor Hospital, the dualling of the A55 and the virtual completion of the M4 in south Wales being obvious examples.
Margaret Thatcher the woman was in many ways a sharp contrast to Margaret Thatcher the world leader. She was, for example, famously kind and caring towards staff, whether hers or others. A noted demonstration of this was when a waitress accidentally dropped the contents of a gravy boat over Sir Geoffrey Howe. Mrs Thatcher called for a brandy - not for Sir Geoffrey but for the poor waitress, whom she proceeded to comfort.
She fussed over me when I visited Downing Street at the time of the Chesterfield by-election and was keen that I had whatever support I wanted in that epic struggle against Tony Benn. Tony Benn said of her that politicians were divided between weather vanes and signposts and that Margaret Thatcher was a signpost and he respected that.
I always found too that Margaret Thatcher respected opposing views and was willing to debate and change her position. She did not respect people who did not stand up to her. The presence of Peter Walker and Ken Clarke and others in her governments demonstrated this tendency.
I met Margaret Thatcher on many occasions. She was always keen to give support and friendly advice. The last time we met we talked for some time and she spoke fondly of Wales and of her visits to the nation, including to my home town of Aberystwyth.
I believe it will be some time before an effective overall assessment of her period of office can be made, but I think that it will demonstrate that pragmatism was much more to the fore than ideology.
The bold primary colours were painted in later. It will also surely demonstrate that her remarkable period in office laid the foundations for political debate thereafter and that one of her greatest achievements is that she altered the terms of political trade at home and overseas.
She will go down in history as a towering political figure - not loved by all, but always respected.