Housing benefit cap 'puts 30,000 homes out of reach'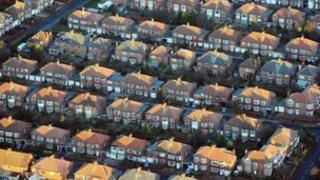 Over 30,000 homes in Wales will be put out of the reach of people on housing benefit because of new restrictions on how much they receive, it is claimed.
The Chartered Institute of Housing (CIH) said changes by the UK government will mean a shortage of homes to rent in some places.
Demand will outstrip supply in all but two of Wales' 22 councils, it said.
The UK government said its reforms would restore fairness to a system that has "spiralled out of control".
From this month, housing benefit payments will be capped - from £250 a week for one-bedroom homes to £400 for a four-bed.
The CIH said Wales would be particularly badly affected leaving some local authorities with three people chasing every affordable private home to let.
It said that the biggest impact would arise from pegging housing allowance - the benefit paid to tenants of private landlords - to the bottom third of rents in any area.
The CIH estimates that 30,640 homes will be lost to the market as a result of the changes. Cardiff will see the biggest loss, with 5,590 homes put out of reach.
CIH Cymru policy and public affairs manager Vikki Hiscocks said: "These changes have a worse impact in Wales compared to other parts of the UK in terms of the imbalance between supply and demand they create.
"The human consequences of the changes will be immense with thousands of people unable to access local housing and forced to migrate raising the possibility of creating benefit ghettos."
She added there was concern that many private tenants will be faced with the choice of losing their home, borrow more or cut back on what they spend on food.
'Restoring fairness'
"It is also a common misconception that these reforms will only impact on people who are unemployed - there are an equal number of people affected who are currently in work," she said.
The Department for Work and Pensions (DWP) said after the reforms housing benefit will still meet rents of up to £20,800 a year.
A DWP spokeswoman said: "There is no reason why our welfare reforms would leave anyone homeless.
"They are about restoring fairness and sense to a system that has spiralled out of control and left communities trapped in a cycle of benefit dependency."
Councils are being provided with an additional £130m "to help smooth the transition of these changes".