Peter Hain's Outside In: power, politics - and some praise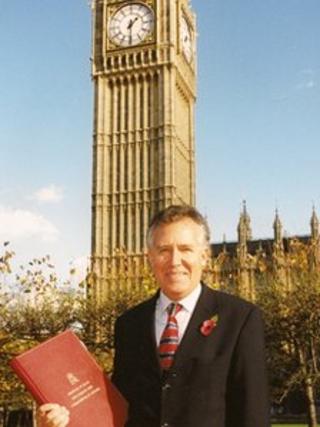 If there were a Booker prize for cheek, I'd put my money on the author of Outside In.
Nelson Mandela may be one of the world's most famous people, but the reader is encouraged to learn more via a helpful footnote - "for a concise, readable biography of Nelson Mandela, see Peter Hain, Mandela, London, (Spruce, 2010").
If you can't use your memoirs to plug your own book, when can you?
Peter Hain's story begins in South Africa, where he grew up fast as his parents were imprisoned and banned for their anti-apartheid activities.
Outside In tells the story of how the family left for Britain, where young Peter made his name as an anti-apartheid activist, survived a letter bomb and being framed for a bank robbery he didn't commit.
Initially a young Liberal, he joined Labour and was elected MP for Neath in a 1991 by-election. When Labour won the 1997 general election, he became a junior Welsh Office minister, inheriting what he says was a press office "stuck in the John Major doldrums, ponderous, bureaucratic and unimaginative".
But there is generous praise for other officials encountered during his ministerial journey through several Whitehall departments. As minister for Europe, he says his staff were "depressed and tearful" at the prospect of losing their minister in one reshuffle - "almost as if there was a bereavement".
His portraits of colleagues, some of whom he says were jealous of his profile, will be familiar to students of British politics.
Tony Blair told him Ron Davies could "lie without blinking". Gordon Brown was seen as a bully, dour, unable to delegate, a dysfunctional prime minister. John Prescott had a temper, the late Ray Powell "communicated mainly in grunts".
There is plenty on devolution and Welsh politics. We learn that the £100m John Redwood claimed to have returned to the Treasury from the Welsh Office, while secretary of state, was never actually sent back - officials simply allowed him to trumpet the fact that it had been.
He tells of a cabinet battle to deliver more powers for the Welsh assembly, with Tony Blair eventually agreeing to a second Government of Wales Bill despite doubts expressed by John Prescott, Geoff Hoon and Jack Straw.
There are frequent criticisms of the media, who find themselves accused of focusing on personalities and process rather than policies. He accuses the media of spinning, although Hain is quite capable of using the media for his own ends.
For all the criticism of "right-wing" media, he allowed his book to be serialised by Rupert Murdoch's Sunday Times and the style owes much to journalese - meetings are invariably "packed", "top" is often accused as an adjective and colleagues are described as either Blairites or Brownites.
But he has some interesting points to make about the relationship between journalists and politicians - do we focus on the "gaffe" and the "split" rather than the ideas behind a debate.
Hain was Northern Ireland Secretary at a crucial time, and he gives a fascinating insight into the choreography involved before Ian Paisley and Martin McGuinness were ready to share power.
There is a chapter on his temporary exile from the cabinet while he was investigated (and cleared) over the late declaration of donations to his campaign for Labour's deputy leadership. It was a particularly grim time, but Hain was cheered to receive a letter of sympathy from the Prince of Wales.
Prince Charles told him: "I couldn't bear witnessing the appalling time you were put through by the media in their most self-righteous mode".
Hain sees himself as an outsider, who became an insider, serving 12 years in government. "In the process I undoubtedly changed, moving towards the centre, but hopefully retaining my radical spark and values.
He says his journey taught him one lesson. "Inside democratic government, you may be more powerful but politics is immensely more complex and constrained: you are in office but rarely in command".
A lesson for today's ministers - and voters.