Deadline for public to have say on organ donation law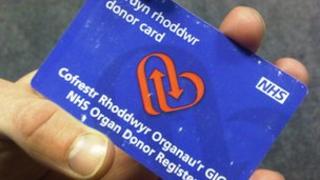 A Welsh government consultation into presumed consent organ donation is about to end, with the findings likely to be published within a month.
It is the next stage in plans for a soft opt-out system whereby people will have to object if they want to avoid being automatically placed on the organ donation register.
The deadline for the public to have its say closes at midnight on Tuesday.
A report into the consultation could be ready by the end of February.
A bill will be introduced this year and passed in 2013, paving the way for what would be the first system of its kind in the UK.
The new system would start in 2015 after allowing time for a public information campaign.
Under the Welsh government's proposals everyone's organs will be available for donation when they die, unless they have opted out.
Families would lose the legal right to stop their dead relatives' organs being taken for transplant, but Health Minister Lesley Griffiths has said she cannot a imagine a situation where doctors would act without a family's permission.
The system would apply to people who have lived in Wales for long enough to know they need to opt out if they object.
The three-month consultation into a white paper, which involved 13 public meetings, has asked for views on how long someone should live in Wales to fall under the system.
Organs would not stay in Wales for transplant, so could be given to anyone in the UK who needs them.
The latest figures show Wales has reached a deceased organ donation rate of 27.7 per million people (pmp), compared to the UK average rate of 16.3 pmp.
It places Wales above many other European countries, including France (23.8 pmp), Italy (21.6 pmp) and Belgium (20.5pmp), which already has a system of presumed consent, according to figures for 2010.
'No evidence'
Despite a record 83 people donating organs in 2010, the Welsh government said a shortage of organs continued to cause deaths and unnecessary suffering.
Campaigners argue that a change in the law would increase the number of organs available for transplant.
About 300 people at any one time are on a waiting list for a transplant and 51 people died in Wales in 2010/11 while waiting for an organ.
Roy J Thomas, of Kidney Wales Foundation, said despite decades of campaigns encouraging people to join the donor register, someone dies every week in Wales while waiting for a transplant.
He said: "With an opt-out system there would be more organs available.
"Opt-out is a change of emphasis, it is about giving, it is a change in culture.
"Transplanting more organs would save lives and save the health service in the UK a fortune compared to the cost of dialysis."
The general secretary of the Presbyterian Church of Wales said he was in favour of changing the law.
Rev W Bryn Williams said: "We feel that we have moral obligations to use the members of our bodies to benefit fellow human beings.
"However, tight safeguards would have to be ensured, as much of the cause of concern regarding these changes is to do with the details of the legislation."
Archbishop of Wales Barry Morgan is opposed to presumed consent.
Professor John Fabre, a former president of the British Transplantation Society, said that passing opt-out legislation in Spain was not the reason why the country had achieved a high donation rate.
"What they do have is excellent intensive care provision, they have excellent transplant coordination and they have excellent public relations," he said.
"That has taken 20 years to achieve."
There is no evidence changing the law will work, he said.
Prof Fabre, an academic at King's College London who works on the rejection of organs, and Conservative Montgomeryshire MP Glyn Davies have proposed a national donor and transplant day. They say publicising the stories of donors and their families would encourage more people to sign up as donors.
The Welsh government said it was "very encouraged" by the response to the consultation.
A spokeswoman said: "After analysing all contributions, we will publish a report into the findings."