Food hygiene scores 'not necessary for non-Welsh businesses'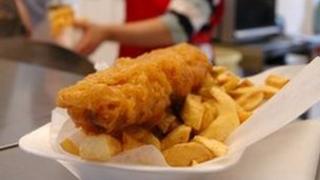 Takeaway vans from other parts of the UK will not have to display food hygiene ratings when they come to Wales under a proposed law, it has emerged.
The Welsh government is consulting on plans for a compulsory "scores-on-the-doors" scheme.
Food outlets would be rated with a score of zero to five after they are inspected.
But English-registered businesses would not be covered if they came to Wales for events such as festivals.
The proposals follow E. coli outbreaks in Wales which led to calls for a tougher stance.
A Welsh government bill would make it mandatory for food outlets to display their ratings, based on local authority cleanliness inspections.
But government officials told the assembly's health committee that the rules could only be applied to Welsh-registered businesses, not to those registered elsewhere and which cross in to Wales to trade.
Pontypridd assembly member Mick Antoniw asked: "How do you deal with cross-border food outlets?
"With a lot of events, you have companies who come in. How are we going to deal with informing them or ensuring they are compliant?"
Chris Brereton, the Welsh government's deputy chief environmental health adviser, said: "Obviously we can't enforce a law that's in Wales on someone who's trading from England and crossing the border.
"If a mobile trader is registered in England and comes across for an event in Wales, we can't insist they display our mandatory sticker."
Officials said Welsh hygiene inspectors would have the right to inspect English-registered traders if they were selling food in Wales and pass the results back to the authorities where they were registered.
They added that a scores-on-the-doors system in Wales - the first throughout the UK - would put pressure on other areas of the UK to follow suit.
'Skulduggery and falsification'
Welsh Liberal Democrat leader Kirsty Williams asked whether they expected businesses to tamper with certificates to give the appearance of a higher rating.
David Worthington, from the Welsh government, said: "Unfortunately, chair, I have to regret, that humanity is not entirely honest, and in my years of enforcement, I cannot think of any single area of work in which there has not been some skulduggery and falsification.
"Expecting 100% compliance without some shenanigans would be expecting a lot of our fellow human beings."
He pointed out that customers would be able to check the ratings displayed by restaurants against those shown on council websites, and it would be an offence if any premises were caught falsifying the ratings they displayed.