Welsh Labour conference: Peter Hain warns of 'closet Tories'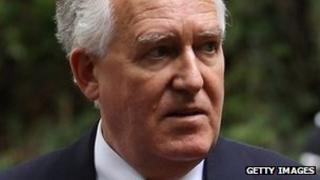 Shadow Welsh secretary Peter Hain has said Labour will face "closet Tories" when it takes on independent candidates at May's local elections.
He warned the Welsh Labour conference of a "wave of so-called independent councillors" in north-east Wales.
Plaid Cymru pointed out that Labour was in coalition with independents to run Carmarthenshire council.
Mr Hain also urged the conference to champion the last UK Labour government's record on the economy.
The Welsh Labour conference in Cardiff is seen by the party as a springboard to winning back many seats and councils lost at elections in 2008.
Mr Hain told delegates the party faced "independents with no manifesto, no plan and no clue - many of them closet Tories: they just knew they'd never get elected in north-east Wales with a blue rosette on."
'Frustrating' time
Labour's conference has heard repeated attacks on Welsh secretary Cheryl Gillan, with Mr Hain adding to those from Carwyn Jones and UK party leader Ed Miliband on Saturday.
In his speech at the Swalec Stadium cricket ground on Sunday, Mr Hain said: "She's been too busy elsewhere, stopping trains, building tunnels and selling houses in her Buckinghamshire constituency.
"She's not a Welsh Secretary, she's an anti-Welsh Secretary."
He added that Labour had experienced a difficult two years of opposition in Westminster.
"In fact, it's been really tough. Opposition always is - frustrating too."
He urged activists to take on the Conservatives and the Liberal Democrats who have sought to blame cuts in public spending on the economy they inherited from the previous Labour government.
"All Tory Lib Dem lies," he said.
"Never let them get away with it. Remind everyone of the truth about Labour's economic record."
Labour was responsible for 10 years of steady growth, he said.
"We did fix the roof while the sun was shining."
But he added: "Where we went wrong was not in spending or borrowing too much.
"With every other government, we failed to spot that fast-growing unregulated banking sector plunged us all into a catastrophic crisis, and the threat of a world depression worse even than the 19030s."
Mr Hain, a former work and pensions secretary, attacked "sensational stories about benefits cheats" and said UK government ministers were "exploiting screaming headlines in the tabloids to make benefit cuts - savage cuts".