Plaid leadership candidates react to poll's independence findings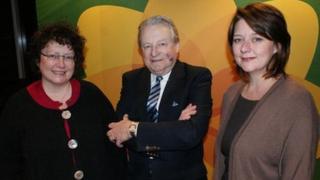 Plaid Cymru's leadership candidates have spoken of the challenges to make the case for independence.
Elin Jones said the party faced a "big piece of work," in response to a BBC Wales poll which showed only 7% of people questioned wanted an independent Wales.
Lord Elis-Thomas said people were not interested in "theories".
Fellow candidate Leanne Wood said Plaid had to build an economic case for independence.
TheBBC Wales/ICM pollfound 7% of people wanted an independent Wales, rising to 12% if Scotland decides to split from the UK.
Plaid is the only one of Wales' main parties in favour of independence. Its members voted to adopt it as party policy at their conference last year.
Lord Elis-Thomas, who led the party in the 1980s, has previously spoken out against his party's pro-independence stance.
'Practical project'
He welcomed the BBC Wales poll's findings in favour of devolving tax-varying powers. Two thirds of voters said at least some of the taxes they pay should be controlled from the Welsh assembly.
"It proves to me that the Welsh people are taking to devolution as a practical project - this is what we want next, so to speak," the Dwyfor Meirionnydd AM said.
"People are not interested in theories, they are not interested in following 'isms'. They are interested in can the constitution grow in a sensible way that helps them with matters day to day.
"The fact they don't agree with what Plaid is emphasising at the moment means that clearly the party has been unable to communicate its message because there's no proper debate.
"It's no use shouting independence on the touchline, it's about playing the game across the field."
'Big challenge'
Speaking on BBC Wales' Dragon's Eye programme, Ceredigion AM Elin Jones said the level of support for independence in the poll "didn't shock me".
"There is a big challenge, a big piece of work for Plaid Cymru and others to do to make the case that Wales can become a successful independent country," she said.
"Plaid Cymru hasn't been making that case really for the past few years."
She said she was confident the party could convince people to support the idea.
"We've seen the support for greater powers for the assembly, fiscal powers for the assembly, for the first time.
"That's a big change in Welsh opinion polling over the past 10 years. That wouldn't have happened if Plaid Cymru hadn't been advocating greater fiscal powers."
'Weak economy'
South Wales Central AM Leanne Wood said the case for independence had not been put, adding: "But there's no reason why Wales couldn't be an independent nation.
"There's nothing inherently different about people in Wales that couldn't make a success."
She said the economy needed to be strengthened so Wales paid more into the "tax pot".
The poll confirmed that attitudes towards independence were "static and largely indifferent".
She added: "This is not surprising as the case for independence has not yet been made.
"Plaid's job now is to show that we can only really turn around our economically disadvantaged position when we have extricated ourselves from a political and economic system which prioritises the overheating economy of London and the south east of England over more 'peripheral' areas."
Dr Eurfyl ap Gwilym, who headed an internal review for Plaid, said the party needed to talk a lot more about independence.
He told BBC Radio Wales: "We need to talk about our long term objective, which is independence, and map out the steps along the way. It's then a matter for the electorate to decide how far along that path they want to come with us."
Ballot papers have been sent to Plaid members, who will rank candidates in order of preference under the alternative vote system.
The winner will be announced on 15 March.