Organ donor response 'veto' confusion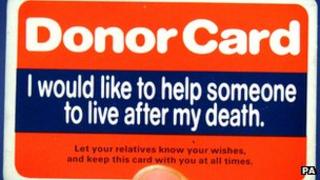 Consultation on new opt-out organ donor laws in Wales has highlighted confusion among the public over whether families should have a veto.
More than 1,000 responded to Welsh government proposals for legislation presuming consent for donation.
Over 50% backed it, but a significant proportion also asked that consent be declined if relatives objected.
Health Minister Lesley Griffiths has said she cannot imagine organs being removed if a family refused permission.
The so-called "veto" option is contained in a response letter drawn up by the Opt for Life campaign, which brings together a number of charities backing the new legislation.
A large number of responses seemed to advocate both giving families a role in ratifying the wishes of the deceased and, at the same time, not giving them a veto over whether a donation should take place.
The Welsh government releaseddetails of the responsesto its public consultation on organ donation on Thursday.
It showed that of the 1,124 responses, 52% were in favour of the new legislation and 39% against.
The confusion seems to have come from the wording of a standard letter circulated by Opt for Life, with 485 of the responses in the letter.
While the letter supports the new law, it also states that presumed consent should not be accepted if "immediate relatives object".
Patient's wishes
The current proposals are expected to be laid out in an assembly bill in June.
Under the plans, everyone in Wales would automatically be presumed to be an organ donor, unless they specifically registered their objection.
Reviewing the consultation responses, Mrs Griffiths said evidence suggested that the proposals could increase organ donations by 25%.
When questioned on the issue of a potential family veto, she said that she "cannot envisage a time when a doctor would remove those organs if the family specifically didn't want that to happen".
However, the minister said she hoped that the suggested donor system would mean that relatives were aware of a patient's wishes, and whether they had decided to register as not being a donor.