Badger cull: Queen's Brian May praises Welsh government for halting plan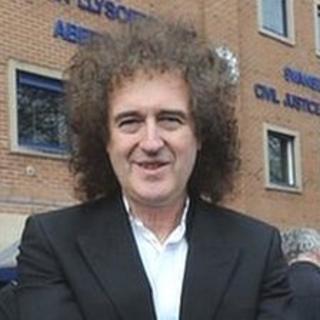 Rock star Brian May has welcomed a Welsh government decision to shelve plans to cull badgers as part of an attempt to rid cattle of bovine TB.
The Queen guitarist and badger campaigner congratulated Environment Minister John Griffiths and said he had made a courageous decision.
Mr Griffiths has opted to vaccinate the animals following a review.
Farmers said they were not opposed to vaccination, but it was not enough on its own.
Mr Griffiths revealed on Tuesday that he was scrapping the plan, saying a five-year vaccination programme will start in the intensive action area - the TB hotspot in north Pembrokeshire where the cull was due to take place.
His decision disappointed farming unions and Labour's political opponents, who strongly backed the cull.
May joined the campaign against it in March 2010 and told BBC Radio Wales: "(I would) certainly congratulate John Griffiths who has made a very courageous decision here in the face of extreme pressure from the extreme end of the farmers' unions.
"Of course, there are many farmers who do take the attitude that vaccination is the answer and we strongly feel that John Griffiths has done the right thing for farmers as well as wild animals."
North Pembrokeshire organic dairy farmer Aled Rees, who has been under TB restrictions since 2002, said farmers were not opposed to a vaccination programme, but it was not enough on its own.
"Out here at the coalface, living with this disease daily like we have for 10 years, we know it's not going to be enough," he said.
"When we're losing cattle hand over fist every two months there's very little hope.
'Strong leadership'
"Vaccination as part of a wider package would be the answer. He (Mr Griffiths) should be going ahead, showing strong leadership, with a cull in that area and then bringing vaccination once we've taken out the diseased badgers.
"If he did that we would have confidence that this would work."
A review of the cull was commissioned after last year's assembly elections.
The cull had been part of an attempt by the former Labour-Plaid Cymru coalition government to combat bovine TB in parts of west Wales.
Officials hope to start vaccinating within two to three months.
Badgers will be trapped in cages and marked so they are not vaccinated multiple times.