Budget: Welsh government 'disappointed' by Osborne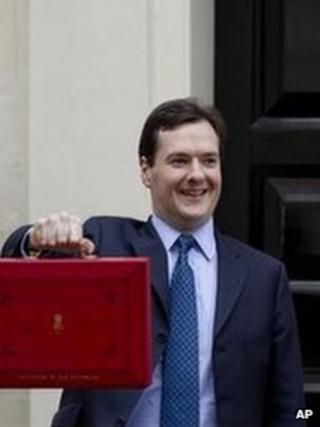 The Welsh government has criticised a "disappointing" Budget, saying it will fall short of a pledge to create jobs.
But the Welsh Liberal Democrats welcomed increases in the amount people earn before they pay income tax.
Plaid Cymru and Labour criticised moves towards introducing regional pay in the public sector.
Businesses in an enterprise zone in Deeside will be able to write off the cost of plant and machinery against taxes.
The Welsh government has been negotiating with the Treasury over capital allowances in the five enterprise zones it intends to create in Wales.
Welsh Finance Minister Jane Huttsaid: "This is a disappointing Budget and not one which will support economic growth in Wales or the UK as a whole.
"What we wanted to see today was a Budget for jobs and growth, with significantly increased capital expenditure.
"The chancellor did neither."
A "lack of action" on fuel duty will be felt particularly hard in rural Wales, she said, and the prospect of further cuts in welfare were "horrific".
She welcomed the enhanced capital allowances in the Deeside enterprise zone, but, in a reference to regional pay, said the Welsh government did not support "the chancellor's plans to pay Welsh workers less than workers in other parts of the UK".
Welsh Lib Demleader Kirsty Williams welcomed an increase in the income tax threshold, which the UK government says will lift an additional 42,000 people out of paying income tax altogether.
She said: "In difficult times, we believe that people on low and middle incomes should get the help they need and that is why I am pleased that the Liberal Democrats have been able to persuade the chancellor to increase the personal income tax threshold.
"This will give hard working people in Wales more of their money back in their pockets and it will also incentivise people to get off benefits and into work."
She added: "We have heard many times about the need to make tough choices in these difficult times.
"The choice for us is clear, lift the burden for the people who are struggling the most now and ensure the wealthy pay their fair share."
For Labour,shadow Welsh secretary Peter Hainsaid the Budget "failed the fairness test".
'Bonanza'
Following the chancellor's announcement that the top rate of income tax will be cut from 50p to 45p, Mr Hain said: "Pensioners having their personal allowance frozen will hit thousands of older people across Wales while millionaires enjoy a multi-thousand pound bonanza.
"In Wales, we have a Welsh Labour government committed to investing in our communities, growing the economy and guaranteeing jobs and training for thousands of young people.
"The chancellor had the opportunity today to take firm action to support this work. Instead, he committed himself once again to tax cuts for the richest with the poorest paying through cuts to tax credits and the scaling back of child benefit."
Mr Osborne announced in the autumn that independent pay review boards were looking at the introduction of regional pay deals in the public sector.
Plaid MP Jonathan Edwardssaid: "Regional pay proposals will mean real term cuts for public sector workers in Wales and institutionalise low pay and low ambition.
"In Wales, we clearly need to grow our private sector, but that will not come about through slashing public sector jobs and cutting the amount of money circulating in our communities, which would hurt the private sector as much as the public.
"Pay and conditions for workers in Wales should be decided in Wales, not Westminster."
Conservative assembly leader Andrew RT Daviessaid: "This is a budget that rewards work, backs business and will support the economy, while benefiting tens of thousands of families the length and breadth of Wales.
"The Welsh government's refusal to accept the huge advantages within it smacks either of politically motivated rhetoric or a complete lack of understanding."
He said "important announcements" on extending broadband coverage, funding for the Deeside enterprise zone and further consideration of rail electrification in the South Wales Valleys should be welcomed by all.
Confederation of British Industry(CBI) Wales said the Wales-specific announcements in the Budget "are few, but nevertheless are welcome".
It said the best news for businesses was that Mr Osborne delivered a "fiscally neutral programme" instead of spending money he did not have.
ButFarmers' Union of Walesaccused Mr Osborne of ignoring mounting pressure to cut fuel duty and said it was "extremely disappointing" that the Budget would do little to help businesses in rural communities.
Save the Children Walessaid he had "chosen to turn his back" on helping children living in poverty, whileOxfam Cymrusay many of the Budget's measures "fail to support the poorest people in Wales".