Local elections: What's at stake for political parties?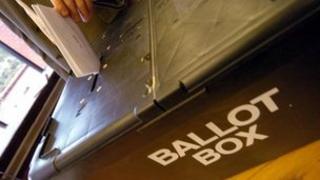 Labour suffered big losses at local elections in 2008. BBC Wales political reporter Daniel Davies looks at what happened and assesses the outlook for the four main parties on 3 May.
What message will voters send Westminster and Cardiff Bay at next month's local elections?
The answer is complicated by Wales' long tradition of political independence which remains intact in places like Pembrokeshire and Powys.
Nearly 250,000 people voted for an independent candidate last time.
But a new breed of independents emerged in 2008, stealing ground from Labour in its valleys heartlands.
They were just one reason why the Labour Party had a dire night.
"We took a belting," is how the then Welsh Labour leader and first minister Rhodri Morgan described it.
Prime targets, such Cardiff and Swansea, remained frustratingly out of reach. But Labour also lost councils that should have been bankers.
In Blaenau Gwent it shed 22% of its share of the vote, thanks in large part to a row in the local party about an all women-shortlist at the 2005 general election.
Disaffection leaked into neighbouring Torfaen which fell to no overall control.
Independents and Liberal Democrats in Merthyr Tydfil increased their share of the vote by 15% and 17% respectively, depriving Labour of a majority.
Infuriated by his abolition of the 10p tax band, voters were punishing Gordon Brown at the ballot box.
'Tough times'
Their campaign slogan, at least, suggests Labour has learnt the lesson of its mauling four years ago.
"With you in tough times," is the rallying cry for 2012.
The 10p tax row convinced many voters Labour had lost touch. Labour is now trying to convince the electorate the same is true of the current UK government by highlighting tax cuts for the wealthy and the Conservatives' links with rich donors.
In contrast to Labour, the Tories enjoyed a good night in May 2008.
Across Wales, their share of the vote increased by 5%. Labour lost almost the same proportion.
While Mr Morgan delivered his pithy one-liner about Labour's "belting", David Cameron made a flying visit to Barry in the Vale of Glamorgan.
His party had just won control of the local council - a crucial staging post if he was to enter Downing Street at the next general election.
"This is a big step forward," Mr Cameron said at the time.
At the time he was riding high in the opinion polls. Four years later the Tories are trailing Labour.
The Conservatives' tally of votes was second only to Labour's in 2008 (269,000 to 461,000), but they trailed Plaid Cymru in the number of seats won.
Despite a backlash against schools closures in rock solid Gwynedd, Plaid made gains elsewhere, including at Labour's expense in Caerphilly where it will try to defend its leadership of the council next month.
Cautious of a Labour resurgence, Plaid is playing down the chances of making big strides at this year's election - an early test for new party leader Leanne Wood.
Meanwhile, the Welsh Liberal Democrats have a job of work to do after suffering their worst ever assembly election result last year.
Their presence in local government is crucial to the party's activist base. The party has 140 seats to defend in these elections, including prized assets such as the leadership of Swansea and Cardiff councils.
If Lib Dems hope to do well in your community, expect to hear a lot about schools funding. A budget deal between the Lib Dems and the Welsh government last year means an extra £450 has been set aside for every child receiving free school meals.
Just like the Tories, the Lib Dems could cop some mid-term flak aimed at the UK government.
As the incumbents in 2008, Labour paid a heavy price at the ballot box. The backdrop to those local elections was the abolition of the 10p tax band. This year it could be the pasty tax.
Voters were worrying about the money in their pocket when they last chose Wales' 1,200 councillors. Now that someone else is in charge of the country, Labour will be happy to see voters vent their spleen on the same subject.