Vote 2012: Almost 100 Welsh councillors returned unopposed before elections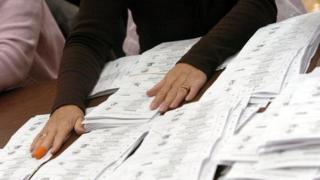 When voters in most parts of Wales can go to the polling booths to elect their councillors, there are thousands who won't have the opportunity.
That is because some 97 councillors will be returned unopposed in seats which have only one candidate.
Prof Roger Scully blamed various reasons, including what he called the "ludicrous" number of council seats.
In one Gwynedd ward, Bryncrug, there are no candidates, and there will be a by-election at a later date.
Prof Scully, of Cardiff University's Wales Governance Centre, believes a situation where there are no candidates, or only one, undermines democracy.
The problem is down to several factors, he says, although not all of them specific to Wales.
However, he believes one problem which could be solved with relative ease.
He says: "We have a large number of local authorities with large numbers of elected people.
"Reduce the amount of councillors we have to elect. The number of councillors could be cut, generally, by a third.
"It's really difficult to see why we would need 70 or 80 councillors in a local authority when the National Assembly [for Wales] has just 60 members. It's just bonkers, patently ludicrous."
As a longer-term solution, Prof Scully believes adopting a single transferable vote system instead of first-past-the-post could increase competition for votes.
Prof Scully said councils had become more restricted over the past 30-40 years in how they use their powers.
He says: "I think some people say why bother standing for local government because it's restricted in what it can do? At the same time, some of the demands may have increased."
He also cites a "general long-term decline of numbers of people wanting to join political parties and become candidates", adding: "With membership declining there's a smaller and smaller pool of potential people to come forward.
"If there are no candidates, or only one unopposed, there's no choice.
"It's a basic undermining of representative democracy."
In Bryncrug, Gwynedd, there are no candidates after the independent councillor, Arwel Pierce, decided to stand down.
'Sad, but thankfully rare'
Dilys Phillips, Gwynedd's head of democratic and legal services, said the council was confident the seat would be filled at a by-election.
She added: "However, in the unlikely event that no candidate comes forward for a second time, electoral laws state that further by-elections will be called until the vacancy is filled."
The figures show that the areas with the highest number of uncontested seats are Powys, Gwynedd and Pembrokeshire.
Peter Black, the Welsh Liberal Democrat spokesman on local government, said: "It is essential for Wales to have a working democracy, so it is particularly depressing to see that nearly 100 councillors across Wales will be elected due to the fact that their seat is uncontested.
"That is not a sign of a thriving democracy."
Plaid Cymru said the Bryncrug situation was "sad, but thankfully rare".
Plaid said it was fielding a record number of candidates, adding that "more can always be done by all political parties, and the government and our civic institutions, both to encourage more people to vote in and stand for elections.
"Plaid Cymru believes that one way of achieving greater participation would be to introduce a more transparent and representative voting system so that people feel that their vote really counts."
Welsh Labour said it was fielding more candidates than in 2008 and said the party would "continue to develop the community links and relationships that bring more people to the Welsh Labour family, be they as supporters, activists, candidates or elected representatives."
The Welsh Conservatives were also asked to comment.