Wales-India trade 'mutual benefit', says Carwyn Jones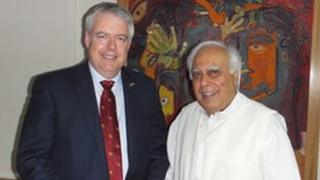 Wales and India can benefit mutually with closer trade links, First Minister Carwyn Jones has said.
Currently heading a trade delegation in India, he said his government was keen to boost the "valuable contribution" of Indian firms to Wales' economy.
He was speaking to business leaders at the Confederation of Indian Industry in the capital, New Delhi.
The confederation and the Indian High Commission is holding a business conference in Wales in October.
Mr Jones told his audience: "I was delighted to welcome a delegation of Indian businessmen to Wales last year and that the Welsh government is able to support a trade mission here to India this week.
"There are a number of Indian companies already operating in Wales who make a valuable contribution to the Welsh economy and I am keen to see the number increase.
"I would welcome your views on attracting further investment in Wales. I would like to see stronger trade links between our countries."
Mr Jones was on the second of a three-day trade delegation of business people and academics.
He had talks with Kapil Sibal, India's Minister for Human Resource Development and the Minister for External Affairs, which is supporting the trade visit.
His schedule includes meeting the deputy chair of Tata Steel on Friday to discuss the feasibility of a £500m project to mine coal near its Port Talbot steel plant.
The Indian-owned company says the project would create up to 500 jobs. The coal would be turned into coke and used in the steel production.