Vote 2012: Rhondda Cynon Taf prepares for the future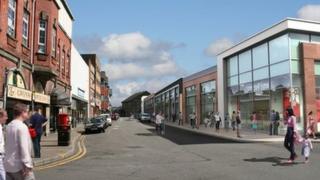 BBC Wales is looking at local issues in some of the key council battlegrounds ahead of the council elections on 3 May.
For months, shoppers in Pontypridd have been dodging roadworks and contractors as the town centre is redeveloped.
£10.5m is being spent replacing pavements and street furniture.
An ageing shopping precinct has been demolished ready for a new one to be built in its place. On the outskirts of the town a massive supermarket is under construction.
It is a scene familiar in many traditional market towns across Wales.
But alongside the changes, many shops are empty.
It is hoped that the town's facelift will lead to new businesses occupying the empty buildings.
However, some independent shopowners are concerned that pedestrianisation of the town and the disruption that has already been caused by the changes will mean their already struggling businesses will continue to suffer.
Out-of-town impact
It is not just the challenges from within the town that they are battling.
Large retail parks at Talbot Green and Merthyr Tydfil draw people who used to shop in places like Pontypridd.
While money has been made available to businesses in the town to help them upgrade their premises, some who have turned down the cash say the scheme is too prescriptive about can and cannot be done in their business.
In the meantime, unemployment across the south Wales valleys remains a major issue.
If jobs do become available, there is often a flood of applications from those who are out of work.
Cash cuts
When the new supermarket opens in Pontypridd, it will create about 200 full and part-time jobs. A recent open day for people to discuss those jobs attracted more than 2,000 people who wanted to express an interest - many travelling from communities across the region.
While the public sector remains a major employer in Rhondda Cynon Taf, like many parts of Wales, budget reductions for councils, the NHS, education institutions and other public bodies is impacting on the wider economy.
Less money circulates as a result of job losses and wage freezes, and public bodies are not able to purchase services from local businesses.
Outside of the public sector there are now few large-scale employers in Rhondda Cynon Taf.
Units on industrial estates do provide private sector work, but the collapse of Peacocks earlier this year and the current threat to jobs at its distribution centres in Nantgarw, Ton Pentre and Merthyr Tydfil demonstrate the vulnerability of jobs in the private sector too.