Schools 'more accountable' under standards legislation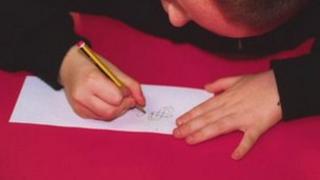 Councils and ministers will find it easier to intervene in failing schools in Wales under new legislation.
Parents would be able to petition governors for meetings as part of reforms to make schools more accountable, the Welsh government says.
The School Standards Bill lays out the conditions under which governing bodies may be replaced.
It also simplifies the process for closing schools with fewer than 10 pupils.
There will also be a legal obligation on councils to have plans to provide sufficient Welsh language places.
Education Minister Leighton Andrews has expressed concern about schools following critical reports and international comparisons.
The legislation lowers the threshold for councils to issue warning notices to schools deemed to be failing and reinforces their powers to suspend boards of governors.
A duty to hold annual parents meetings would be repealed.
Instead, governing bodies would have to hold meetings if 10% of parents petitioned for one. No more than three meetings could be held during a school year.
Breakfast
Other changes include requiring local councils to provide free breakfasts for children when primary schools ask for them. Education authorities would also have a duty to make reasonable provision for an independent counselling service.
Both policies are currently paid for with specific grants from the Welsh government, but the Bill would transfer that money into the main stream of local government funding.
The Welsh government says that "without underpinning legislation, there is the risk that local authorities may decide not to continue with these programmes".
There is also a plan to give councils some leeway over the price of schools meals, letting them cut the cost for children from big families. At present, every child must be charged the same.
The process of closing schools with fewer than 10 pupils could be shortened. There would be no need for a public consultation before publishing statutory notices to close them.
Mr Andrews said: "The Bill sets out a number of proposals that will make schools more accountable by bringing together, updating and, where necessary, tightening standards and management.
"The Bill establishes processes which will contribute to our agenda to drive up school improvement; reform and speed up the statutory process for school organisation and enhance local decision making."
For the Conservatives, shadow education minister Angela Burns said: "While there are positive aspects within this Bill, it is imperative that this Labour government gets the balance of power correct and the minister resists his apparent temptation to place too much power in his own hands.
"Local education authorities and consortia are already in place across Wales and should be given the elbow room to do their jobs properly."
Welsh Liberal Democrat leader Kirsty Williams said: "This is an important piece of legislation and it will need thorough consideration before we can agree to support this bill.
"However, we are willing to work with the government, in areas where we agree, to reform our failing education system."
Plaid Cymru education spokesman Simon Thomas welcomed the legisation, but added he would be concerned if a schools' banding is used as sign that it is failing before ministers intervene.
Secondary schools were placed into performance bands for the first time last year.
Mr Thomas said: "Plaid Cymru remains opposed to the future introduction of primary school banding as we believe that it is destructive and unreliable."