Heritage Protection Bill to safeguard buildings at risk, says minister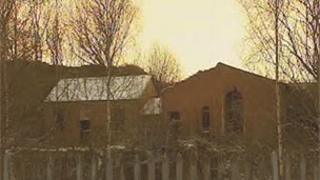 First Minister Carwyn Jones says planned new legislation should protect the future of historic Welsh buildings in danger of falling into disrepair.
He was responding to concerns raised by Clwyd South AM Ken Skates that more could be done to safeguard 3,000 historic buildings "at risk" in Wales.
Mr Jones told the Senedd the draft Bill will ensure "owners live up to their responsibilities".
Mr Skates said 80 buildings were on an at risk register in Wrexham alone.
He raised the issue at Tuesday's first minister's questions in the assembly, saying: "Ensuring that our historic buildings are fully appreciated and protected for future generations is an important role that should not simply be down to the local council.
"The number of historic buildings at risk in Wrexham is very worrying indeed.
'Neglect'
"A recent report highlighted that many important buildings considered to be of historical interest across Wales are at risk of falling into ruin, with over 3,000 historic buildings and items considered at risk. The Brymbo Ironworks is one such example."
The site, which closed in 1990, includes several scheduled ancient monuments, such as the foundry.
In December, Wrexham council published its at risk register saying it was keen to ensure buildings will not go to waste, ranking them on a four-tier sliding scale from "grave risk" to "vulnerable".
Mr Jones told the Senedd: "It is right to say there are concerns about the condition of many listed buildings, particularly, of course, continuing maintenance and neglect by their owners.
"The Heritage Protection Bill is designed amongst other things to ensure that owners do live up to their responsibilities."
The Bill was announced last summer after the Welsh government took on new law-making powers .