Probe over urging schools to back anti same-sex marriage petition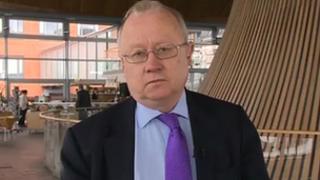 An investigation is to be launched by the Welsh government after a Catholic lobby group urged schools to back a campaign against same-sex marriage.
The Catholic Education Service (CES) wrote to its schools and invited them to support the online petition by the Coalition for Marriage.
Schools and teachers are forbidden from promoting a one-sided political argument.
CES denies breaking the law by allowing political campaigning in schools.
Education minister Leighton Andrews has asked his officials to investigate.
A Welsh government spokesperson told BBC Wales' Dragon's Eye programme: "The education minister has seen the press stories and has asked officials to investigate.
"All schools must ensure issues are taught in a way that does not subject pupils to discrimination."
The CES intends to issue new guidelines to its schools to remind them that children under the age of 16 cannot sign the online petition.
The executive director of the National Secular Society (NSS), Keith Porteous Wood, said he was "sickened" by the CES's letter.
"I think the church is seeking to promote its overtly political stance where it doesn't even seem to accept the supremacy of parliament by using its schools, which are taxpayer funded," he added.
"It is no right of the church to use the school as a political lobbying tool and we are certain this is against the Education Act and it may be in breach of the Equalities Act."
The NSS has written to Mr Jenkins to express its concern.
Mr Porteous Wood said: "It makes me feel sick. I think about the poor gay kids that are at these schools and the message that it gives of the totally unrealistic, inhuman or inhumane policy of the catholic church towards gay people.
"I think it is very unfortunate."