AMs say environment merger 'puts cart before horse'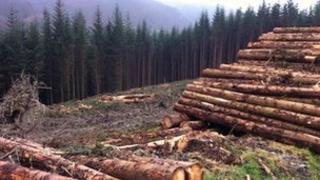 A report by AMs has raised concerns about the way the Welsh government is creating a new body to oversee policy on the environment.
Environment Agency Wales, Countryside Council for Wales and Forestry Commission Wales will merge next year.
The assembly's environment committee warned of risks in the proposal for a single environmental body after examining the business case.
The Welsh government said it welcomed an overall endorsement of the idea.
The move could save up to £158m over 10 years, ministers have said.
But AMs heard concerns about whether the new agency would strike the right balance between conserving nature and helping the economy.
Witnesses also highlighted the need to make robust arrangements that seperate the agency's responsibilities to grant permits and advise ministers.
Some of those who gave evidence also questioned the benefits of including Forestry Commission Wales as part of the new organisation.
The concerns are contained in a report sent to Environment Minister John Griffiths.
It says AMs were surprised the government was creating the new body before announcing its policy on the environment.
"To our mind, it is a scenario analogous to the 'cart before the horse' idiom," the report says.
Committee chairman Lord Elis-Thomas said: "These are clear and practical concerns from individuals and organisations which work with the current bodies on a day-to-day basis and it is unclear yet as to whether these concerns will be realised.
"We hope that drawing the Welsh government's attention to these concerns will lead to these issues being avoided and that the transition to a single environmental body will be completed as smoothly as possible.
"We will be taking a close interest in the establishment of this organisation and its development in future."
A Welsh government spokesperson said: "We welcome the environment and sustainability committee's overall endorsement of our decision to establish a single environment body.
"In coming to the decision we consulted widely with interested parties and listened to their views. We will continue with this approach as we take forward this work. We will be formally responding to the committee's report in due course."