Push for votes in last days of local election campaign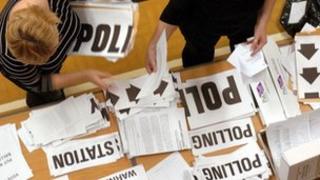 A final push for votes in Thursday's local elections is under way.
Political parties are using the final days of the campaign to underline key messages.
Labour said people were turning to the party to deliver for families while Plaid Cymru said councils should boost local economies
The Conservatives said they were offering "positive" local messages and the Lib Dems hailed their "proud" record in local government.
Elections are happening in 21 of Wales' 22 authorities - all except Angelsey which is being run by ministerially-appointed commissioners after years of political infighting.
Labour is defending about 340 seats, Plaid almost 200, the Conservatives 165 and the Lib Dems 140.
Labour leader Ed Miliband has said his party is "back in touch with people" after poor results last time Wales' 1,200 council seats were contested.
His party will hope to capitalise on a difficult month for the UK government.
Campaign manager Peter Hain MP said it had been Welsh Labour's "biggest and brightest ever local election campaign" and would be fighting tooth and nail for every vote until polls closed.
"With our bottom-up, community-based campaign, we've made hundreds of thousands of doorstep contacts in recent weeks," he added.
"And these conversations have carried a clear message - people are turning to Labour to deliver for them and their families."
Mr Hain said they were "hearing loud and clear" that people were sick and tired of the cruel, vicious cuts imposed by the coalition government in Westminster.
The Lib Dems have concentrated on their performance in leading councils such as Swansea and Cardiff - both big targets for Labour.
But with fewer candidates, Lib Dem leader Nick Clegg has said these will be "tough" elections.
The party said Welsh Lib Dem leader Kirsty Williams will be out and about until polling day, telling people how Lib Dems have delivered value for money in county halls.
Peter Black, their local government spokesman in the assembly, said: "As we enter the final stage of the local elections, our candidates and activists will continue talking to people all across Wales about our proud Welsh Liberal Democrat achievements in local councils over the past four and eight year."
The Conservatives have pledged to put power back in voters' hands if they win control of councils.
They have urged people to vote Tory for lower council taxes - but the tax freeze they want would require them to be in charge of the Welsh government in Cardiff Bay.
Tory AM Jane Finch-Saunders said that in the last week of the campaign the party would "continue to fight on a local level... with positive messages that will benefit everyone in Wales".
She added: "While Labour's message continues to be a negative one, with little in the way of local ideas and local policy, Welsh Conservatives have a clear vision of how to improve our communities and give them a far greater say in their futures."
Meanwhile, Plaid Cymru leader Leanne Wood said councils' spending power should be used to help small local businesses.
Plaid has said the local elections come too early in her tenure as leader for the result to be seen as a verdict on her. She was elected Plaid's first female leader on 15 March.
Over the weekend she was campaigning in Carmarthenshire, an important battleground where Plaid hopes to win control of the council.
She said: "Plaid Cymru councils will introduce procurement models that are accessible to smaller businesses and contracts which will include social and environmental clauses to promote the sustainable development of our economy."