Vote 2012: Polling stations open for council elections in Wales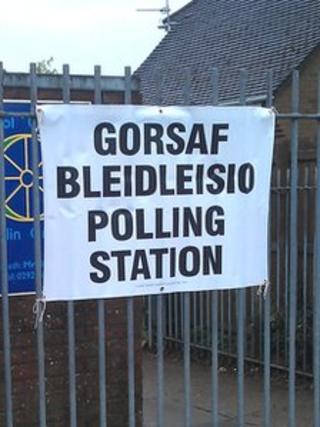 Polls have opened across Wales as voters elect councillors in all but one local authority.
Some 1,200 seats are being contested, with elections in 21 of the 22 unitary local authorities, as well as for community and town councils.
The exception is Anglesey, where appointed commissioners are running its affairs after political infighting.
Polling stations open from 07:00 BST to 22:00. The first results are due to be declared early on Friday.
Most are expected to declare during the early hours but others will not announce results until the afternoon.
Labour is defending about 340 seats, Plaid Cymru almost 200, the Conservatives 165 and the Liberal Democrats 140.
The rest were filled by independents or small parties.
More than 90 seats for the unitary authorities have already been filled where candidates are standing unopposed.
Local authority elections on Anglesey will be held next year. In the meantime, boundaries of electoral divisions on the island are being redrawn in the area.
Ministers are due to receive proposals from the Local Government Boundary Commission which has proposed cutting the number of councillors from 40 to 30.