Local election: Carwyn Jones targets more Welsh Labour success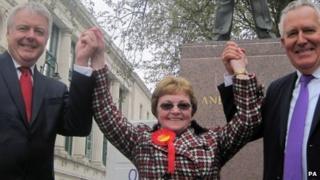 First Minister Carwyn Jones believes Labour can build on big council election gains and win outright in the Welsh assembly in 2016.
Welsh Labour took control of 10 out of the 21 councils with its best performance since 1996.
Six council leaders from other parties lost their seats, although Labour lost its leader in Rhondda Cynon Taf despite retaining control.
However, Mr Jones warned that Labour needed to keep voters and attract more.
"People in Wales see Labour as their natural home," said Mr Jones. "People are coming home to Labour in droves."
With majorities in Swansea, Newport and Cardiff, Labour has taken its three big target councils in south Wales.
Winning Cardiff, which had been led by the Liberal Democrats, is a big scalp for Labour. Rodney Berman, who was the city's Liberal Democrat leader, also lost his seat.
Labour holds half the assembly seats, but do not have an outright majority.
"If we could produce the same kind of performance that we saw in Cardiff across Wales in 2016 I think we could win a majority," he added.
"That's a long way off yet. What's important is that we've demonstrated we can win in all parts of Wales and that we've been able to get more and more councillors elected."
Conservatives and Lib Dems blamed losses on a difficult time for the UK coalition.
'Alive and kicking'
Plaid Cymru failed to hold onto control of Gwynedd council in its heartlands.
Some 1,200 seats were contested in 21 of the 22 unitary local authorities in Wales. Anglesey, which is being run by Welsh government-appointed commissioners because of political in-fighting, will hold its election next year.
"What's impressed me over the last two years particularly is the sheer number of people who are going out, week in week out delivering leaflets, knocking doors, making sure people know the Labour party is alive and kicking and thriving in their local community," said Mr Jones.
"And we've seen that bear fruit over the last 24 hours.
"The challenge now is to make sure we keep them there and attract more people, particularly those who didn't vote, to come out and vote Labour in those elections to come."
Results appeared to back up Labour confidence, although the party is coming from a relatively low base after big losses last time Wales' council seats were contested in 2008.
As well as gaining Cardiff, Swansea and Newport, the party comfortably held Neath Port Talbot, winning 52 out of 64 seats.
In the north, Labour failed to win outright control of Wrexham and Flintshire, but made gains to strengthen its position as the biggest party in both.
"We're going to have to deliver on the promises we've made," said Mr Jones.
"People know that times are hard and the austerity being imposed by the UK government means there's not going to be much money for local government in the next few years.
"But they want to see local governments prioritise those things that are important to them such as social care, education, making sure they live in local, vibrant communities.
"Our councillors know this and they're ready for the challenge."
Conservatives lost their majority in Monmouthshire, falling three seats short of the 22 they needed to secure outright control.
They also lost control of the Vale of Glamorgan, with Labour now the largest party but without an overall majority.
The Conservatives' leader in the Welsh assembly, Andrew RT Davies, said the Welsh Tories suffered a "setback" because of a "difficult national backdrop".
Welsh Lib Dem leader Kirsty Williams, whose party suffered heavy losses, said attention had been focused on Westminster politics and that voters had sent the UK government a message.
Plaid Cymru had been playing down expectations of doing well under its new leader Leanne Wood, who was elected in March, saying the elections came too early in her tenure to be seen as a verdict on her.
All the election results are available at bbc.co.uk/vote2012