Tory MP David Davies sorry for 'incompetent government'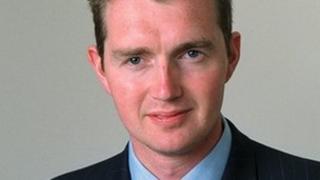 A Conservative MP has written to a newspaper to apologise for the "incompetence" of the UK government.
David Davies told the South Wales Argus, which covers his Monmouth constituency, that David Cameron needs to change tack to keep his position.
The coalition was not listening to backbenchers and voters, he said.
Mr Davies, who chairs the Welsh Affairs Committee, has also revealed how his mother has previously voted for the UK Independence Party (UKIP).
She lives in Newport, where Labour dislodged a Tory-led administration in the city council at last week's local elections.
The Conservatives also lost overall control of Monmouthshire council in Mr Davies's backyard.
The election campaign saw a run of mishaps and controversial decisions by the UK government, including tax changes in the Budget, panic buying at petrol stations and problems over the deportation of radical Muslim cleric Abu Qatada.
'Let down'
In his letter to the Newport-based paper , Mr Davies offered his "apologies to those who feel the Conservative-led coalition has let them down".
"I must acknowledge there has been incompetence at the highest levels of government over the last few months in a number of departments," he said.
"Meanwhile, there has been an emphasis on issues such as gay marriage and reform of the House of Lords at the expense of explaining the financial situation; a failure to deport dangerous terrorists because of concerns about human rights; and an apparent unwillingness to listen to the concerns of electors and the backbench MPs who represent them.
"I shall have no hesitation in expressing my concerns in Parliament."
Right-winger Mr Davies voted against the government in calling for a referendum on the UK's memberships of the EU last year.
He told the Argus: "David Cameron needs to change his tack very rapidly otherwise he's not going to be in position for very long."
The Conservative Party has been asked to respond.