Ramblers 'likely to oppose' allowing cycling on footpaths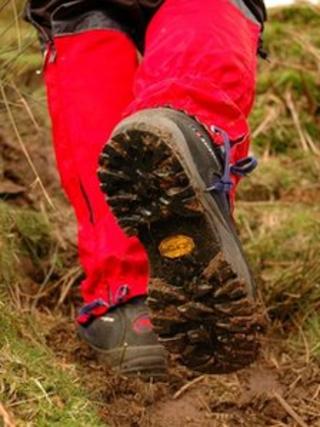 A charity representing walkers says it will probably oppose most attempts to convert footpaths so cyclists can ride on them.
Ramblers Cymru was responding to Welsh government proposals to revise rights of way on cycle tracks and footpaths.
It is part of legislation intended to encourage people to travel on foot or by bike.
Ministers say they want walking and cycling to become the most natural way of making short journeys.
A white paper on the Active Travel Bill refers to "inconsistencies" that allow walkers on to cycle tracks but stop cyclists riding on footpaths.
It says that while some footpaths are too busy or dangerous for cycling, others - especially in towns - could be used safely.
'Access'
"Widening access to footpaths might be an appropriate way of expanding the number of suitable routes for cyclists and in some cases equestrians," the white paper says.
Ramblers Cymru said cyclists, like walkers, were vulnerable road users, but added "that if cyclists and walkers are in conflict, walkers are the more vulnerable".
The charity said it would take part in the consultation on the bill and pointed to its policy on shared route paths, issued in 1997. The charity said it would prepare a full response to the white paper.
Although each proposal will be judged on its merits, it says "it is likely that RA (the Ramblers Association) will oppose most proposals for converting facilities which are currently pedestrian only into shared use paths".
There may be occasions when providing more facilities for cyclists means better facilities for walkers, it adds.
Under the legislation, councils would have a duty to provide maps of safe walking and cycling routes.
Safety fears are the main deterrent for many people who choose not to walk or cycle, the white paper says.
It says the lack of a culture of walking and cycling "leads to a perception that walking and cycling is something abnormal, done by eccentrics and enthusiasts only".
The bill would also mean local authorities must identify improvements needed to create a "fully integrated network for walking and cycling".
The white paper lists the benefits of leaving the car at home, saying it would cut the cost of the NHS dealing with obesity and reduce carbon emissions.
Transport Minister Carl Sargeant said: "We want to make walking and cycling the most natural and normal way of making short everyday journeys."