Welsh Secretary Cheryl Gillan: Royal Mint signs deal with Thai treasury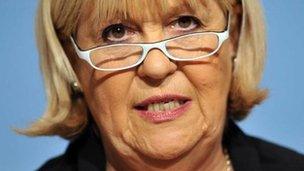 A deal worth £6m to the Royal Mint has been signed in Thailand, as part of a five-day tour of South East Asia by Welsh secretary Cheryl Gillan.
The contract will see the Llantrisant-based mint supply 500 million nickel plated 1Baht blanks to the Thai treasury.
Mrs Gillan called it a "milestone deal", which was great news for Britain.
She will also visit Cambodia and Singapore this week.
Mrs Gillan is aiming to promote trade and tourism links and strong diplomatic ties.
The Welsh secretary's tour follows the Prime Minister's visit to the region last month.
Mrs Gillan also gave a speech to 200 travel trade businesses and organisations at a VisitBritain business networking event, highlighting the support available to Thai businesses looking to invest in the UK.
She later met local women's groups, political organisations and members of the opposition in the Thai government to discuss women's role in politics, democracy and the constitution.
Mrs Gillan said: "With today's signing of a milestone deal between the Thai Treasury and The Royal Mint in Wales, we have further cemented the ties between our two countries."
She added: "The Diamond Jubilee, Olympics and Paralympics will provide a worldwide platform for the UK to show all that is great about it and this summer we hope that many people will take this opportunity to visit, invest or study in the UK."
Mrs Gillan will continue her visit on Tuesday at the British Council Teaching Centre.
The centre helped 17,924 people sit English exams with the British Council in May 2009/10 and aims to establish 10 further academic links with Britain in 2012.
The Secretary of State will then visit Thailand's National Olympic Committee headquarters, before attending an evening reception with the St David's Society of Bangkok.
Related Internet Links
The BBC is not responsible for the content of external sites.