Peter Hain succession: Possible contenders to be shadow Welsh secretary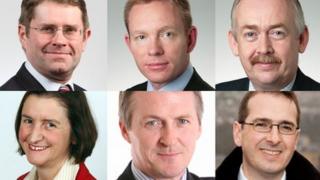 Peter Hain's resignation as shadow Welsh secretary has left a gap to be filled.
Mr Hain, who will remain as MP for Neath, says he has given up the shadow cabinet role to campaign for a barrage across the Severn estuary.
So who will Labour leader Ed Miliband pick to replace him and take responsibility for Welsh affairs on Labour's front bench?
Here are some of the MPs who could be in the running for the job.
Owen Smith (Pontypridd)
Elected in 2010, Owen Smith quickly earned a reputation as an effective performer in Westminster. He has been a shadow Wales Office minister and is currently part of Labour's shadow Treasury team.
He recently launched a bid to bring regional rugby back to the south Wales valleys.
Mr Smith first stood for parliament at the Blaenau Gwent by-election in 2006. Previously he was a BBC journalist, a government special adviser and a lobbyist for the pharmaceutical company Pfizer.
Huw Irranca-Davies (Ogmore)
The MP for Ogmore since a by-election in 2002, Huw Irranca-Davies was a parliamentary aide, whip and an environment minister during the previous Labour government.
Under Ed Miliband he has been shadow energy minister and shadow food minister.
He says his earliest political memories are campaigning for his uncle Ifor Davies, the Gower MP and deputy to Cledwyn Hughes at the Welsh Office in the 1960s.
Chris Bryant (Rhondda)
Chris Bryant is one of the most recognisable Welsh Labour figures in parliament and his profile has been boosted by pursuing the Murdoch empire over the phone hacking scandal.
While a government aide in 2006 he signed a letter calling for Tony Blair to resign.
He held ministerial roles under Gordon Brown, while Ed Miliband has appointed him to the politically-sensitive borders and immigration brief.
Wayne David (Caerphilly)
Wayne David's name was also on the 2006 letter urging Mr Blair to go. He resigned as a parliamentary private secretary over the former Labour leader's refusal to name a date for his departure from Downing Street.
Currently shadow minister for political and constitutional reform, Mr David succeeded Ron Davies as the MP for Caerphilly.
He was previously Labour's leader in the European Parliament and contested the Rhondda seat at the 1999 Welsh assembly election, but lost to Plaid Cymru.
Nia Griffith (Llanelli)
Could the first female Welsh Secretary, Cheryl Gillan, soon be shadowed by a woman? Although if Nia Griffith landed the role, she would not be Labour's first woman shadow Welsh secretary, as Cynon Valley MP Ann Clwyd did the job.
Before being elected in 2005 she was a modern languages teacher and schools inspector.
Already Mr Hain's number two as a shadow Wales Office minister, she has previously been parliamentary private secretary to Labour heavyweights Hilary Benn and Harriet Harman.
Kevin Brennan (Cardiff West)
Kevin Brennan is a protege of the former Welsh Labour leader and First Minister Rhodri Morgan.
Before succeeding him as the MP for Cardiff West in 2001, he was Mr Morgan's researcher and then special adviser. He also ran his campaigns for the Welsh Labour leadership in 1999 and 2000.
He held government and ministerial roles under Tony Blair and Gordon Brown. Ed Miliband appointed him schools minister, although he backed Ed Balls for the Labour leadership.