Energy industry zones for Snowdonia and Haven Waterway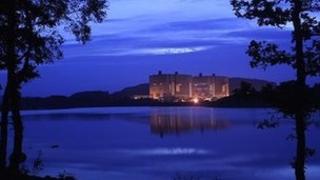 Business Minister Edwina Hart has announced two further enterprise zones to support businesses in Snowdonia and Milford Haven.
The two locations were chosen because of their importance to the energy sector.
About 30% of the UK's energy comes from oil and gas imports to Pembrokeshire, the Welsh government said.
The Snowdonia zone will be centred on the former nuclear energy plant in Trawsfynydd.
Former Conservative assembly leader Nick Bourne will chair the Haven Waterway zone and John Idris Jones, a development officer for the nuclear energy firm Magnox, will lead the Snowdonia zone.
Zones have previously been set up in Cardiff central business district; St Athan in the Vale of Glamorgan, which includes Cardiff Airport; Ebbw Vale; Deeside; and Anglesey.
Companies will have access to a range of benefits, but tax breaks for investing in new machinery have so far only been guaranteed in Deeside.
Discussions are continuing with the Treasury about making allowances available elsewhere.
Mrs Hart said: "These additional enterprise zones are good news for mid and west Wales.
"Enterprise zone status is not an end in itself - momentum has to be maintained and work must now continue to ensure that the offering in all our enterprise zones is effective, attractive and relevant to business."