Homelessness: Private landlord licences plan in Wales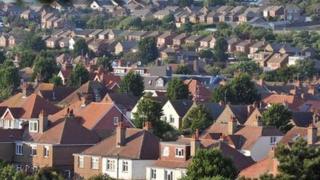 Private landlords will effectively need a licence to let homes under reforms drawn up by the Welsh government.
They will have to sign a mandatory register before they can take on tenants.
The proposal is part of an attempt to tackle homelessness, improve conditions in private rented homes and provide more housing.
Housing Minister Huw Lewis said making sure people had an affordable home in good condition was essential.
He set out the changes the Welsh government wants to make in a white paper which says all landlords will be expected to sign a mandatory register and pass a "fit and proper person" test.
"Accreditation will secure full registration status, which is effectively a licence to operate as a private landlord in Wales," the white paper says.
Legislation will apply to all landlords and agents, regardless of how many properties they have.
The number of homes rented from private landlords in Wales has doubled in the past decade to 182,000 homes, or one in seven properties in Wales.
The white paper, a precursor to a new Housing Bill, describes the private rented sector as having "extremes" of good and bad practice.
Although there are good landlords, some tenants are put in difficult situations by unscrupulous operators, with some people enduring "poor conditions, insecurity and, sometimes, threats of eviction".
"The latter, combined with the lack of other options, means that many people, often vulnerable people, put up with the questionable practices of some landlords and lettings and management agents," it says.
"In some cases, it also includes questionable charges and costs."
'Hidden costs'
Councils have also reported lettings agents charging tenants and landlords "a variety of fees and sometimes hidden or unexpected costs".
Some 1,300 landlords have been trained or accredited since a voluntary landlord accreditation scheme was launched in 2008.
There is also a pledge to end family homelessness by 2019.
Officials say about 3,000 homeless families approach councils for help every year, but hope that many cases can be dealt with through getting rid of a so-called "intentionality test" by 2014.
The test is how councils decide whether someone can be blamed for losing their home, such as if they do not pay their rent when they can afford to or when they are evicted for anti-social behaviour. There is no duty on councils to provide accommodation in these situations.
Other measures in the White Paper include a pledge to tackle the "blight" of empty properties by giving councils the power to increase council tax on properties empty for longer than a year.
The Welsh government said a programme of tenancy reform, via a separate bill, would be taken forward in the lifetime of this assembly.
Mr Lewis said: "This is about much more than putting a roof over someone's head.
"Housing issues affects people's health and well being and their ability to find and keep a job.
"For children, it is the foundation for the rest of their lives. In short, housing is fundamental to delivering many of our goals as a progressive government."
'Supply crisis'
The Chartered Institute of Housing Cymru said too few homes were being built.
Institute policy manager Vicky Hiscocks told BBC Radio Wales it wanted a broad brush approach to tackle housing issues which were ambitious but realistic.
"Let's be clear, there are some significant challenges out there at the moment. We have got a supply crisis in Wales," she said.
"We know we need to be building about 14,000 homes a year to be able to meet ongoing housing requirements.
"Last year we only built about 5,500," said Ms Hiscocks, whose not-for-profit organisation which represents the housing sector."
Conservative communities spokesman Mark Isherwood AM, said ministers needed to work with landlords, not "wield a big stick".
He said: "The goal must be to drive out rogue landlords, not quality ones."