Female unemployment rises to a 20-year high of 8.3%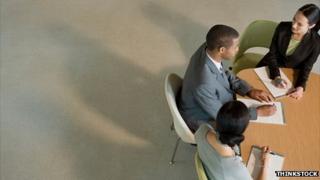 Female unemployment in Wales is at a record high after a year when it rose faster than it did among men.
The Office for National Statistics (ONS) confirmed the latest female unemployment rate of 8.3% is the highest since records began in 1992.
A leading equal opportunities agency and the Wales TUC blamed cuts in the public sector.
But the UK government said tailored support was available to women looking for work.
The ONS uses an internationally-recognised survey to produce a quarterly estimate of unemployment every month.
The last round of figures - published earlier this month and covering the three months to March - showed 57,000 women were out of work.
The figure is up 34.4% on the same time the previous year, compared to 17.8% for men and women, and 7.8% for men.
'Downgrade'
Although a bigger proportion of men remain out of work, unemployment for men fell in each of the last five months while it rose among women.
The number of female jobseekers' allowance claimants was 24,500 in April - 14% higher than April 2011. The male claimant count of 55,000 was 10.2% higher.
The Department for Work and Pensions (DWP) pointed to an increasing number of women across the UK who were in work, saying it was at a historically high level despite the recession.
A spokeswoman said: "Those women who are long term unemployed or returning to the workforce can access the tailored, back to work support, on offer from the Work Programme."
But the TUC and Chwarae Teg, which promotes the economic development of women, said women were being hit hard by cuts to the public sector.
Chwarae Teg chief executive Katy Chamberlain said: "The public sector provides quality part-time jobs and other flexible working opportunities and as a result, women leaving the sector may be forced to downgrade."
Richard Exell, senior economist at the TUC, pointed to changes in the state pension age, which has been rising since April 2010.
Women over 60 who do not work and who would have previously been classed as economically inactive are now joining the ranks of the unemployed as they are "overtaken" by the state pension age, he said.
Wales TUC general secretary Martin Mansfield said: "These figures are solid proof that the cuts are hitting women hardest.
"How can it be fair that unemployment has risen twice as much for women than society as a whole?"
The Welsh government warned against the volatility of monthly unemployment statistics, but took heart from shrinking rates of economic inactivity, saying they were close to an all-time low.
It also blamed the austerity drive of the coalition government in Westminster.
"We knew from the off that Wales would be hit disproportionately hard compared to the rest of the UK," a spokesman said.