Welsh government: cancer patients 'not denied drugs'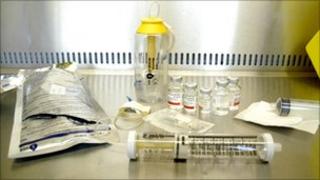 The Welsh government has rejected a claim by opponents that a range of cancer drugs were available to patients in England but not in Wales.
It said of the 24 treatments in question, 16 had been prescribed and eight had not been requested.
There have been angry exchanges between ministers and the Conservatives recently over NHS cancer treatment.
The opposition has attacked the Welsh government for not setting up a specific fund to pay for drugs.
The Tories have repeatedly said that 24 treatments are being denied to Welsh patients while they are on offer in England.
'Short term'
But Health Minister Lesley Griffiths said it was "categorically not the case", with 232 patients receiving 16 of the treatments.
No requests have been made for the remaining eight but they are available, a spokesman said.
She said a cancer drugs fund - something the UK government has established in England and which the Tories have pushed for in Wales - was a "purely short-term measure".
She said: "In Wales, all these drugs are available to patients under our individual patient funding request route, which assesses whether patients would benefit from the treatment based on the clinical evidence and demonstration of exceptionality."
The Rare Cancers Foundation has claimed there are "cross border inequalities" and last year said 20 treatments were not routinely available in Wales.
Shadow health minister Darren Millar said: "I want to see an end to this divide - along with thousands of cancer patients and their families - and I don't understand why the minister does not support this view."
He said the Labour government's refusal of a "life-prolonging policy" was "baffling".