Council tax benefit cut 'to cost poorest in Wales £74'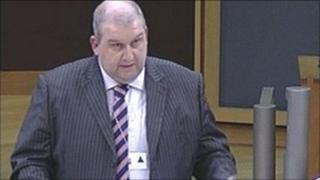 People in Wales on low incomes will lose an average £74 a year under changes to council tax benefit, a report has found.
The UK government is devolving responsibility for the benefit to the Welsh government under welfare changes.
The Westminster coalition has also cut 10% of the budget for helping people pay their council tax.
It says "localising" the system will give the Welsh government the freedom to decide how best to help people.
Opponents have criticised the Welsh government for not making up the estimated shortfall of more than £20m when the changes are introduce in April 2013.
About 328,000 families receive council tax benefit in Wales, making it the most widely claimed means-tested benefit or tax credit.
Localised support
In research commissioned by the Welsh government, the Institute for Fiscal Studies (IFS) think-tank says cuts in council tax support are bound to hit those on the lowest incomes.
Protecting recipients from the cut would have meant a 2.1% increase in council tax rates or a 0.2% cut in Welsh government spending at a time when budgets are being squeezed.
Plaid Cymru has criticised Welsh ministers for not following the Scottish government which has struck a deal with local councils to find the money to make up for the cut.
Ministers say they simply have not got the money it would cost them to do the same.
Local Government Minister Carl Sargeant put the Welsh government's argument to Work and Pensions Secretary Iain Duncan Smith in a meeting this week.
Mr Sargeant said: "This report identifies the challenges the Welsh government faces in putting in place a system to replace council tax benefit by April 2013.
"It confirms what we have been telling the UK government all along about our profound concerns over the impact the cuts to council tax benefit will have on some of the most vulnerable members of our society."
He said the UK government had not confirmed whether it would provide funding to set up a new benefit system.
Mr Sargeant has previously said that picking up the cost for the cut in benefits would be equivalent to 650 fewer primary school teachers or more than 600 fewer nurses.
A Department for Work and Pension spokesman said: "Under the complicated system we have at the moment, council tax support is delivered in the same way across all areas of the UK, and local authorities have no flexibility to make changes to meet the needs of their local communities.
"Localising support will give the Welsh government the freedom to decide how best to support communities within Wales."
The IFS says there is a "complex question" of making tax rebates work alongside the new Universal Credit.
The Universal Credit will replace all other means-tested benefits and tax credits when it is phased in from October 2013.