Argentina plea over Falklands to Plaid MP Elfyn Llwyd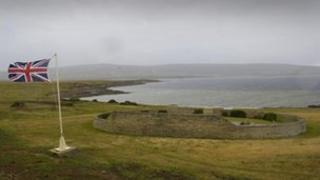 Argentine diplomats tried to win the support of Plaid Cymru's parliamentary leader for their claim to sovereignty over the Falkland Islands.
Elfyn Llwyd said he turned down their offer as soon as he realised what they wanted.
It comes at a time of mounting diplomatic tension over the Falklands.
The islands' government plans to hold a referendum next year in an attempt to counter Argentina's increasingly vocal claim to the islands.
The Meirionydd MP told BBC Wales he was unaware that the purpose of the meeting was to sound him out about his views on Argentina's claim to the islands.
He said he initially though the Argentine officials wanted to discuss other issues, such as the 150th anniversary of the Welsh settlers arriving in Patagonia.
Coffee
The diplomats also asked Mr Llwyd whether he knew of any other Parliamentarians that would be willing to support them.
He said: "Immediately I said, 'I'm sorry I don't want to get involved in any of this' and that was that.
"It took place in the Pugin room in the House of Commons over coffee and it might have taken maybe 25 minutes."
Mr Llwyd went on to defend the right of MPs to meet whoever they choose in a free and open country, but said he should have "asked more questions beforehand".
The Falkland Islands recently marked 30 years since the end of war with Argentina.
Earlier this week Prime Minister David Cameron confronted the Argentine president Cristina Fernandez de Kirchner over her country's continued claim to the Islands.
The prime minister told Ms Fernandez she should "respect the views" of islanders who are taking part in a referendum on the issue of control.
Ms Fernandez tried to hand him an envelope containing the 40 UN resolutions which, she said, back her country's case. Mr Cameron refused to take the letter.