Carwyn Jones calls for Scots independence vote choice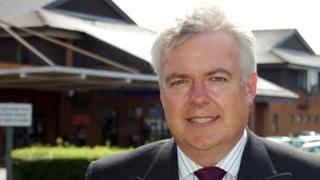 Scottish voters should not be forced to choose between independence and the status quo, Wales' First Minister Carwyn Jones has said.
Scotland's First Minister Alex Salmond will hold a referendum on independence in autumn 2014.
But Mr Jones said the Scottish people should have other options before they take part in the referendum.
Prime Minister David Cameron believes "passionately" in the Union and wants Scotland to stay in the UK.
He has offered discussions on more powers if it rejects the chance of independence.
Mr Jones was speaking after a meeting of British and Irish ministers in Edinburgh.
He said without other choices, there was a danger that "people would be forced into a choice between the status quo - which it seems to me the people of Scotland don't want - and independence which the opinion polls again suggest is something the people of Scotland are reluctant to accept".
He added: "They (the people) need to feel that their nation has the right level of autonomy and I don't think at the moment, and it's true of Wales as well incidentally, but I don't think in Scotland at the moment that debate is happening."
Mr Jones said he would "greatly regret" seeing Scotland leave the Union. Together with Wales and Northern Ireland, Scotland brought "balance to the UK", he said.
"I think if Scotland left that balance would be lost," he added.
The pro-union campaign for the referendum is due to be launched in Scotland on Monday.
Friday's meeting of the British and Irish Council discussed youth unemployment and the "tremendous potential" for marine energy.
Mr Jones said there was an opportunity for countries to learn from each other's experiences in dealing with youth unemployment.
He was also asked about his statement this week that the UK's nuclear submarines would be welcomed to Wales if they were forced out of their base in Western Scotland as the SNP wants.
Mr Jones told the BBC: "If there is going to be a UK nuclear fleet and it's not going to be based in Scotland it's got to be based somewhere else. It brings a lot of jobs with it."