Welsh government flood defence budget facing £30m cut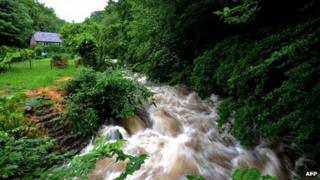 Significant cuts are being made to the amount spent on defending Wales from floods, AMs have been told.
Weeks after mid and north Wales were hit by serious floods, the Welsh government's budget for coping with flooding and coastal erosion faces a cut of £30m over four years.
Ministers blamed reduced funding from the UK Treasury in the block grant.
The budget is outlined in evidence to a committee of AMs during one of the wettest Junes on record.
The Welsh government spent £68m on flood and coastal risk management two years ago and £53m last year, but that will fall to £37m in 2014/15.
The capital budget for building and maintenance is being cut from £30m in 2010/11 to £21m this financial year and to £10m in 2014/15.
Environment Minister John Griffiths, who will give evidence to the assembly's environment committee on Wednesday, said he did not anticipate big changes to predicted budgets.
The government will "explore opportunities to maximise investment on flood and coastal risk management", he said.
He added: "While we have previously been in a position where budgets were increasing annually, this is now no longer the case.
"The last UK spending review [in October 2010] resulted in a reduced budget for the Welsh government.
"As a result, capital programmes such as that for flood and coastal erosion risk management have been significantly affected."
Rising sea levels
In 2010 the Environment Agency said funding to build and maintain defences against flooding by the sea and rivers would need to almost treble over 25 years to stop more properties from becoming at risk.
About one in five people are estimated to be at risk from all sources of flooding.
However, earlier this month, the agency said about 16,000 fewer properties were at the most serious level of risk thanks to spending over the last four years.
With changes to the pattern of rainfall and rising sea levels expected, the Welsh government says more frequent and severe flooding is likely in the future.
A national strategy published in April says simply building more and bigger drainage and defence systems will be impossible.
A Welsh government spokeswoman said the core budget was reducing in line with the wider austerity measures, but denied it amounted to a significant cut.
She said the environment department had swelled its budget in previous years thanks to successful bids for funding, allowing it to draw down European money.
She said: "We have secured additional funding on a number of occasions and this has meant that up to 2012/13 our capital budget in-year has increased."
Some villages in Ceredigion have been clearing up the mess and repairing the damage caused by flooding on 9 June. Villagers in Pennal, Gwynedd, were also asked to evacuate the village amid fears a dam wall could give way.
Parts of Ceredigion saw 5ft (1.5m) of water with record high river levels in places.
Conservative committee member Russell George, the AM for Montgomeryshire, said: "No-one should be under any illusion about the threat posed by flooding - particularly given recent events in mid Wales.
"It is incumbent upon the government to take steps to alleviate the causes of flooding. Slashing the amount of funding directed at that is irrational."