Welsh secretary Cheryl Gillan assembly constituency row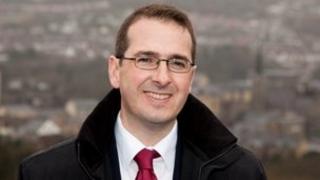 The Welsh secretary, Cheryl Gillan, has been accused of trying to avoid scrutiny over UK government proposals to redraw assembly constituencies.
Owen Smith said a debate on the issue had been scheduled in Westminster on Monday 2 July before many Welsh MPs had returned from their constituences.
The shadow Welsh secretary said a lack of proper consultation on the issue was a 'discourtesy' to the assembly.
A Conservative spokesman defended the 11:30 BST scheduling of the debate.
Mr Smith said he was outraged at the debate being arranged at a time when he said MPs were often still returning from their constituencies.
The Pontypridd MP was also angry that the proposals would not be discussed on the floor of the House of Commons - but instead debated in a special session of the Welsh Grand Committee.
Mr Smith said he intended to use parliamentary procedures to try and reschedule the debate.
He also accused Mrs Gillan of a "discourtesy" to the assembly by failing to hold a proper consultation with the body about the plans.
A Wales Office spokesperson said a motion before the House of Commons on Tuesday evening was intended to help facilitate a debate on the green paper.
If the house approved the motion then the Welsh Grand Committee would meet at 11:30 BST on Monday.
The debate was scheduled to allow MPs from across Wales the time to return to Westminster to attend, the spokesperson said.
A Conservative spokesman accused Labour of "whinging" instead of engaging in real debate.
"It strikes me Welsh Labour MPs seem to have a problem turning up for work of a morning," the spokesperson added.