Pupils in Wales fall behind England counterparts by 14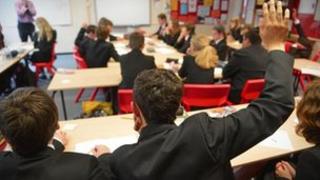 Pupils in England are continuing to overtake their counterparts in Wales in the first three years of secondary school, official figures show.
It follows a decade-long trend where 11-year-olds in Wales do better in maths, science and English at the end of primary school.
But they then fall behind pupils in England who do better by age 14.
The Welsh government said national literacy and numeracy programmes would help raise standards.
For 10 years the figures have shown primary pupils in Wales have done better in all subjects, but the situation is reversed at key stage three - the first three years of secondary school - where England has consistently outperformed Wales.
Results for 14-year-olds in Wales for English and maths were worse than every English region last year. In science, Wales was worse than all but one English region.
It contrasts with key stage two assessments at the end of primary school when Welsh pupils do better than over the border.
The difference was greatest in maths with 85% in Wales reaching the expected level, compared to 82% in England.
In 2011, the proportion of pupils in Wales achieving the expected level was lower than England for all subjects.
Of the three subjects, Wales was furthest behind in English where 76% reached the expected level, compared to 82% in England.
Nevertheless, standards in all three subjects have been steadily rising since 2002.
Expected level
In science, for example, 66% of Welsh pupils reached the expected standard in 2002. Last year the proportion was 80%.
The Welsh government pointed to the different ways in which children are tested.
Wales abolished Sats in 2004. They are still carried out in England at age 11, but not at 14.
Welsh government policy adviser, Professor David Reynolds, of Southampton University, said: "The gap was there when both countries had externally marked Sats up until the mid-2000s.
"The gap was almost identical with the gap that's now there.
"Whichever system you run with, there's a gap there.
"I think the gap squares with most people's opinion and knowledge of the Welsh system, which is that historically our primary education has been OK, but we do have a secondary problem and in particular a key stage three problem."
He endorsed Welsh government policies to drive up standards - drawn up in response to a poor international comparison of teenagers - including planned national reading and numeracy tests.
A Welsh government spokesman said: "Due to the increasingly different methods of assessment in Wales and England, including the introduction of the foundation phase and changes in assessment policy in England, it is difficult to now make direct comparisons between the data for each of the key stages.
"We have made clear our commitment to improving literacy standards in our schools.
"The recently published national literacy programme sets out the actions we will take to achieve this. The national literacy and numeracy framework (LNF) and national reading and numeracy tests now out for consultation are key elements of the programme.
"Similarly, the national numeracy programme will be launched this autumn and will explain the actions we will take to lift the standard of numeracy in Wales."