Tories say more than 10,000 spend 12 hours in Welsh A&E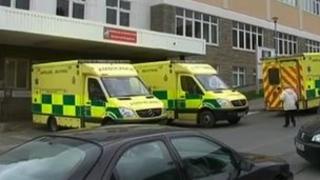 More than 10,000 people a year are waiting longer than 12 hours in A&E departments in Wales, the Welsh Conservatives say.
Hospitals recorded 842 people waiting longer than 24 hours in the most recent year, according to their figures.
It comes as it emerged the NHS missed its targets to see A&E patients within four and eight hours last month.
First Minister Carwyn Jones said most patients were seen in a reasonable time.
The Conservatives blamed long waits on a lack of resources which Labour attributed to the Tory-led UK government.
There were around 1,056,000 attendances at A&E departments in Wales between September 2010 and September 2011.
The Welsh government has targets for 95% of them to be seen within four hours of arriving at casualty.
Last month 88.8% of patients spent less than four hours in A&E, up 0.2% on April.
Big increase
The Tories called on the Welsh government to routinely publish statistics on longer waits.
They obtained figures for people waiting 12 and 24 hours through freedom of information requests to health boards.
Some boards provided figures for financial years while others were for calendar years.
Taken together, the number of people waiting more than 12 hours in the most recent year was 10,228.
Aneurin Bevan Health Board, which covers south-east Wales, has seen a big increase in people waiting more than 12 hours at its hospital emergency departments.
It rose from 141 (0.1% of patients) in 2007 to 2,850 (1.9% of patients) in 2011.
Out of 179,869 attendances at A&E in Betsi Cadwaladr Health Board in 2011/12, 1,576 waited longer than 12 hours - up from 533 the previous year.
The Tories have criticised Labour for not pegging health spending to inflation, saying it amounts to a cut for the NHS.
Labour says to do so would force bigger cuts elsewhere at a time when the Welsh government's budget is under pressure.
'Deteriorating situation'
Conservative shadow health minister Darren Millar said: "The negative consequences on patients are vast and I fear bed shortages are playing a large part in the problem of A&E waits.
"This is the first time we have seen the true scale of waiting times over 12 hours and figures differ wildly from area to area."
First Minister Carwyn Jones said the majority of the 980,000 patients who visit emergency departments were seen on time.
"The impression they (the Conservatives) have given that this is somehow common practice is untrue," he said.
A spokesperson for Health Minister Lesley Griffiths said: "The hypocrisy of Welsh Tories knows no bounds.
"With a rapidly deteriorating situation in the NHS in England - due to Tory mismanagement and cuts - it's little wonder the BMA have today said they have no confidence in Andrew Lansley and have called on him to resign ."
The minister's spokesperson said the government was "determined to make health services in Wales safe and sustainable".
"That's why we are not cutting the health budget despite the Tory-led government slashing the Welsh budget," he said.