CBI claims Welsh firms losing out £2bn in contracts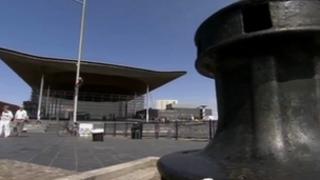 Employers' group CBI Wales is claiming businesses are losing out on £2bn in public contracts.
CBI Director in Wales, Emma Watkins, told BBC Wales that the Welsh government is "ideologically" against private firms delivery public services.
Finance minister Jane Hutt rejected the claim, saying her government is working to remove business barriers.
At present public sector contracts are worth £4.3bn a year - 52% going to Welsh companies.
However, the CBI argues that a further 20,000 jobs could be created if that was increased by 10%.
Ms Watkins told BBC Wales' Dragon's Eye: "Businesses are missing out on a key injection of cash, which could help them to grow their businesses, create jobs and drive the economy forward.
"But the other issue actually is, that some of the citizens of Wales are losing out because some services aren't being delivered effectively and innovatively in the way that they perhaps could be."
At the moment, local councils in Wales account for 44% of all the money spent on procuring public services.
The health service in Wales makes up a further 28% of the spend.
'Antipathy'
Last year, Health Minister Lesley Griffiths went on the record stating she "completely rejected the privatisation of NHS services" and "did not want to see private companies making money out of our NHS".
It came after private hospitals claimed they could take up the slack if there was not any room on NHS wards in Wales.
The Welsh Independent Healthcare Association said the arrangements could be made transparent, as has been done in England.
But the CBI Wales director said she believed there was little appetite among Welsh governing politicians to include business in the equation.
"The majority of our members would feel it's ideological and political and I think that quite a few businesses would say that there is an antipathy and an opposition to use the private sector to deliver public services here in Wales," she told Dragon's Eye.
"I think that's probably the overriding factor for many.
"I think what tends to happen when we talk about public sector delivery is we tend to enter into a false argument about 'public good - private bad'.
"I think what we have to look at is, what's the service that's being delivered, what's the quality of the service for the service users on the street and what's the value of that service."
Remove barriers
But responding to the claims, finance minister Ms Hutt said the government had a clear commitment to Welsh businesses.
"Our ambition, for every public Welsh pound we have, should be there to support the economy and to support Wales-based businesses," she said.
"Of course, statistics prove that we are making a difference."
Ms Hutt said that in 2003, just 35% of the public sector contracts in Wales were awarded to Welsh firms.
"We certainly want to improve that and progress that," she added.
"We're working to reduce and remove those barriers to procurement and we've done a lot of good work on that."
Dragon's Eye is broadcast at 23:35 BST on BBC One Wales on Thursday, 28 June.