5p bag charge 'widely supported'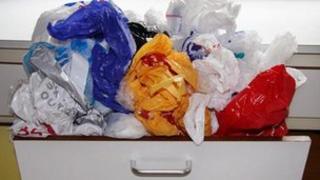 A 5p carrier bag charge introduced in Wales has been "widely supported" with people's shopping habits changing as a result, an official study for the Welsh government has shown.
Researchers found that 82% of shoppers now bring their own bags compared to 61% before the charge was brought in.
In October 2011, Wales became the first nation in the UK to charge for single use carrier bags.
Some of the money raised by the sale of the bags gets donated to charity.
The research appears to support a BBC Wales investigation in April which showed that retailers were reporting a drop in the sale of carrier bags.
Authors of the report by Cardiff University said: "The carrier bag charge appears to have brought about a habit in Wales of bringing one's own bag to the supermarket and other shops.
"The charge has helped to greatly increase own bag use in Wales across all age groups and for men and women alike."
Women, older people and those on low incomes were generally more likely to take their own bags to the shops.
As well as looking at people's behaviour, researchers asked for their attitude towards the bag charge.
They found support for it was already high in Wales before it was introduced.
In telephone surveys before and after the introduction of the 5p fee, the proportion of people who said they always take their own bag to the supermarket rose from 42% to 64%.
Results of the study also showed the number of people using their own bags also increased in England, but the increase was bigger in Wales.
The findings are in line with other countries with similar charges.
In April, BBC Wales found that supermarkets said the charge on single use carrier bags coincided with a reduction in their use of up to 90%.
Sainsbury's saw a 90% fall, the Co-op reported 86% and Morrisons 60%.
Environment Minister John Griffiths said: "The Welsh public have adjusted brilliantly to the Welsh bag charge and the majority now regularly take their own bags with them when they go shopping."
Retailers face a £5,000 fine if they do not comply with the carrier bag charge rules.
The proceeds go to good causes, but businesses with fewer than 10 staff are not obliged to keep records of how the money is used.
Keep Wales Tidy chief executive Lesley Jones, whose charity has received more than £105,000 as a direct result of the bag charge, said: "The success of the carrier bag charge is good news for Wales' environment and we hope to see a reduction in the amount of bag related litter."
Welsh Retail Consortium spokesman Sarah Cordey said it was not surprising that carrier bag use was declining and that plastic bags accounted for less than 1% of household waste.
"If other governments see reducing the use of carrier bags as a priority, they will have to take a lead and go beyond voluntary measures," she said.
"Any legislation should be as similar as possible to what's in place in Wales and we are already working with other governments as they develop their plans."