Labour AM Mark Drakeford opposes Trident fleet in Wales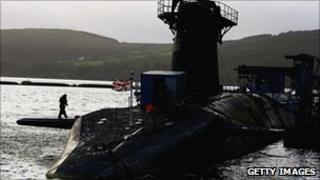 First Minister Carwyn Jones has been rebuked by a Labour backbencher after suggesting the UK's nuclear submarine fleet would be welcome in Wales.
Cardiff West AM Mark Drakeford said he was "utterly opposed" to the siting of nuclear missiles in Wales.
It comes after Mr Jones raised the prospect of the Trident weapons system leaving its Scottish base and coming to Milford Haven.
AMs were taking part in a Plaid Cymru-tabled debate in the Welsh assembly.
The Scottish government wants the UK's nuclear fleet removed from its base on the west coast of Scotland.
Last month, Mr Jones told AMs in the Senedd that Trident, and the jobs it would bring, would receive "more than a welcome" in Milford Haven if forced to leave Faslane.
His spokespeople said his comments were "nothing to do with Scottish independence", although Mr Jones later said the jobs associated with Trident would be "casualties" of Scottish independence.
On Wednesday, a Plaid Cymru motion in the assembly opposing the renewal of Trident was defeated in a Senedd vote. AMs instead backed a Labour motion which said the Welsh government has no powers over nuclear weapons.
Mr Drakeford, a former adviser to Mr Jones's predecessor, former First Minister Rhodri Morgan, said that although the debate was theoretical as the decision was not devolved, he would be "utterly opposed to the notion that Wales might be a home for nuclear weapons".
'Immediate decommissioning'
He was proud to align himself with the thousands of people "within my own party and beyond" who called for an immediate decommissioning of the Trident nuclear programme.
Mr Jones responded to the debate by demanding to know where Plaid Cymru stood on a new nuclear power station at Wylfa on Anglesey and where they stood on the self-determination of the Falkland Islands.
He said: "We will concentrate on the issues that are relevant to the people of Wales. We will also concentrate on issues that we can do something about."
Mr Drakeford was one of three Labour AMs who underlined their opposition to nuclear weapons during the debate.
Labour's Julie Morgan said she voted against renewing Trident when she was an MP in 2007 and stood by her views.
The discussions about siting nuclear weapons in Milford Haven was "entirely hypothetical," she said.
"I hope this will continue to be hypothetical both before the [Scottish independence] referendum takes place and after," she added.
"Our efforts should be put into encouraging the Scots to stay part of the United Kingdom, to stay with Wales, Northern Ireland and England."
Plaid's Rhodri Glyn Thomas accused Mr Jones of "disgraceful behaviour".
"I have to say that is the worst contribution I have heard from any member of the assembly, not to mention a first minister," he said.
The Ministry of Defence says it has no plans to move the nuclear deterrent from HM Naval Base Clyde.