Life expectancy improving, but deprived areas lagging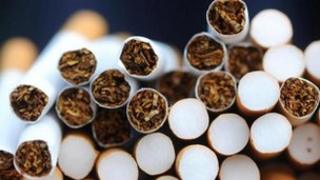 Life expectancy is rising slower in the most deprived communities, the chief medical officer of Wales has warned.
Overall health is improving and people are living longer, Dr Tony Jewell has said in his final annual report before he steps down from the role.
He said people lead healthier lives, with life expectancy for men catching up with women.
But smoking and alcohol-related deaths are more prevalent in the poorest areas.
Dr Jewell pointed to the contrast between inner-city Grangetown in Cardiff and Dinas Powys in the Vale of Glamorgan.
In Grangetown, life expectancy for men is 71.5 years. Three train stops - and four miles (6.4km) - away in Dinas Powys it is 81.8 years.
Across Wales, life expectancy has been increasing for two decades. For men it now stands at 77.6 years, closing the gap with women (81.8 years).
But deaths from alcohol are three-and-a-half times higher in the most deprived areas for men and more than twice as high for women.
Deaths from respiratory disease and smoking in the most deprived areas are more than twice those in the least deprived.
Teenage pregnancy, which Dr Jewell said was associated with poor health outcomes for mothers and babies, has fallen to its lowest rate for 18 years.
Inequality
Dr Jewell, who stands down over the summer after six years in the job, said: "Improving public health involves a sustained commitment to make long-term change; and as I reflect on my last report as chief medical officer I am proud of what we have achieved.
"There is more work to be done to tackle health inequalities and make it easier for people to make healthy choices, and I know that this will continue across all Welsh government departments."
Health Minister Lesley Griffiths said Welsh government commitments to extend GP practice opening times and provide health checks for the over 50s will help prevent disease.
Doctors have been told they will not need to offer appointments outside office hours and at the weekend if there is no demand for it, after the BMA expressed concern about forcing GPs to work on Saturdays.
Over-50 health checks are due to start between 2013 and 2016, but no firm date has been given on when they will be available.
Mrs Griffith said: "Through Tobacco Control Action Plan for Wales we continue to work to reduce smoking rates, with the ultimate aim of a smoke free Wales, and I want to thank Dr Jewell for his commitment to tackling smoking.
"I look forward to working with his successor to move towards a smoke-free Wales."