End income tax 'aberration' for Wales, says working party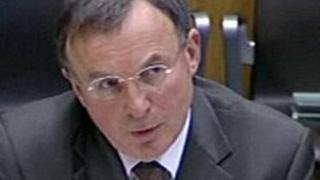 All income tax raised in Wales should be handed to the Welsh government, according a working party led by former finance minister Andrew Davies.
It said the assembly was probably the only body in the world able to pass laws and spend money while having no power or responsibility for tax.
The group is working on behalf of the Wales Governance Centre, the Institute of Welsh Affairs, and Tomorrow's Wales.
But it said tax should not be devolved unless block grants were raised.
The three organisations have come together to submit their views on finance to the Silk Commission, set up by the UK government to review the extent of devolution in Wales.
'Aberration'
The working party said devolving tax powers would improve the accountability of the Welsh government, saying Wales' annual income tax revenues of £5bn represented a third of its budget.
"The absence of taxation powers from the current devolution settlement in Wales is an aberration from international and British norms," it said.
"It is probably unique, internationally, to have a body with the power to make primary legislation as well as to spend money, and yet not have any power or responsibility for taxation.
"Even the smallest units of local government in Britain can raise some revenue."
The group also called for Wales to have the right to vary higher rates of income tax by up to 3%, and recommended devolution of business rates, landfill tax and stamp duty.
It said devolution of tax powers would encourage and improve the quality of debate within and outside the Welsh government about its policies and programmes.
However the group warned that tax devolution would leave Wales worse off unless there was also reform of the UK government's needs-based block grant system - known as the Barnett formula - which it claimed left the Welsh public sector short of £12m.
The Welsh government said it had already submitted its own views to the Silk commission and would not be responding to the report.
But in March, First Minister Carwyn Jones said Wales could not take on powers over income tax until an annual £300m underfunding by Westminster was addressed.
His comments followed a poll for BBC Wales which found that almost two-thirds of voters thought the Welsh assembly should have at least some influence over taxes.
The deputy prime minister Nick Clegg, responding to the same poll, said he supported the idea of giving Wales more powers over tax.
Guto Bebb, Conservative MP for Aberconwy, has also called for the assembly to have tax-raising powers.
In March, Mr Bebb wrote that there should be "accountable devolution", which meant that "responsibility for raising a portion of the Welsh government budget should be in Wales".