Silk Commission poll backs Wales tax power devolution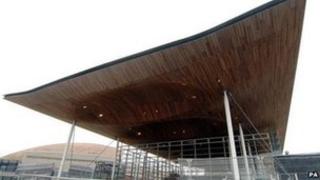 Two-thirds of people in Wales think the amount of income tax they pay should be decided in Wales, an opinion poll has suggested.
It was carried out for the Silk Commission, which is examining the case for further devolution.
A total of 64% of people questioned said powers to set income tax should be devolved to the Welsh government.
But commission chairman Paul Silk said the report highlighted a "limited understanding" of tax issues.
Referendum call
The Welsh government has no tax-raising powers and depends on an annual grant from the Treasury for its budget.
First Minister Carwyn Jones has called for powers over some taxes, such as stamp and air passenger duties.
The poll found 81% approved of his belief that powers to set and collect income tax should not be devolved without a referendum.
However, if taxes were higher in Wales, then only 28% remained convinced that control over them should be devolved.
Mr Jones's administration also wants the ability to borrow money so it can raise funds to invest in big projects.
This was also backed in the poll, with 80% agreeing with the proposal.
Pollsters ICM said there was evidence that people did not fully understand the current tax arrangements, but that a picture was emerging of a public who, if forced to choose, would opt for the devolution of tax powers.
Almost three-quarters (72%) supported Welsh government efforts to "nudge" people's behaviour through charges and taxes, for example by introducing a compulsory 5p fee for carrier bags.
The Silk Commission was set up by the UK government to examine Wales' devolution and funding settlement.
Its first set of findings will be published in the autumn, with a second report presented in spring 2014.
Mr Silk said: "Our remit is very clear - we must come up with a package of recommendations likely to command a wide degree of support.
"While the results show clear support for the devolution of tax and borrowing powers, we must be mindful as a commission of the concerns they also reveal.
"It was also clear from the report that there is a limited understanding of taxation issues and from the outset we have sought to address this. "