Welsh assembly voting: Carwyn Jones meets David Cameron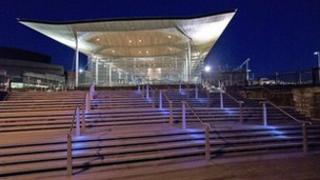 First Minister Carwyn Jones claims to have given the Prime Minister "food for thought" about proposed changes to Welsh assembly electoral arrangements.
After a meeting at Downing Street, Mr Jones said David Cameron had "listened to my viewpoint... that the electoral system should not be changed without the consent of the people of Wales".
A consultation is under way on plans to redraw assembly constituencies.
Downing Street said the meeting was "constructive".
The UK government is consulting on a proposals to redraw Welsh assembly constituencies to reflect plans to cut the number of Parliamentary constituencies.
The plans have infuriated many AMs and MPs who accuse the UK government of being unwilling to consult or hold a referendum on what they see as a big constitutional change.
Carwyn Jones said he and Mr Cameron discussed "at length" the UK government's Green Paper on changes to Assembly boundaries.
Mr Jones said he had also discussed other matters with the Prime Minister including "Wales' funding situation, in particular borrowing powers" and the progress of the Silk Commission, which is currently looking at whether Wales should have some degree of tax-varying powers.
Trust
The First Minister again welcomed today's announcement by the UK government of the electrification of the mainline to Swansea and Valleys lines.
Asked if the move represented an opportunity for the two governments to build trust, Mr Jones said: "It's a start."
A Downing Street spokesman said: "The Prime Minister and the First Minister had a constructive meeting and discussed a wide range of issues that affect Wales.
"They spoke about how the two governments can work together to stimulate economic growth in Wales, especially through infrastructure investment and job creation.
"They also discussed constitutional issues, including funding and the progress of the Silk Commission."