NHS report 'not sexed up', says author Marcus Longley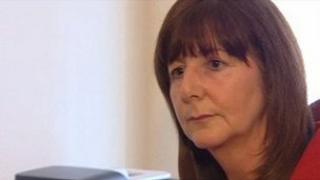 The author of a report into the best way to organise hospital services has denied his findings were "sexed up".
Health economist Marcus Longley rejected allegations that he "colluded or connived" with civil servants.
Giving evidence to AMs, he defended his independence from claims he inappropriately contacted senior Welsh government officials and said his "integrity has been smeared".
Wales' health minister faces a no confidence vote over the controversy.
Prof Longley's report, published in May, was hailed by ministers as impartial evidence that big changes were needed in the NHS.
But emails have since emerged which show him asking civil servants for information while writing the document, sparking a furious political row in the assembly.
Opposition parties say the correspondence casts doubt over the independence of his conclusions.
Giving evidence to the assembly's health committee on Wednesday, Prof Longley, of Glamorgan University, said: "Is there any evidence of collusion or conniving in the documents themselves? Are they sexed up?
"The answer is certainly not.
"There are many examples where we painstakingly point out the need for caution in interpreting the data."
He said there were cases in the report that presented data which did not support the case for changes.
"The evidence is laid out for all to see," he said.
On no occasion did the Welsh government seek to influence the report, which Prof Longley said was commissioned by the chief executives of local health boards.
"If they had tried, I wouldn't have allowed it, but no such attempt was made," he said.
Despite the controversy over the emails, there was no evidence in the 170 pages of his report to show collusion with the civil service, he added.
Prof Longley said he emailed officials to ask for information that was not publicly available.
He said a reference to "killer facts", which appears in one of the emails, was a request for information on clinical outcomes, including how many people die in hospital or do not recover fully after they are discharged.
Emails were often "dashed off", he added. Taken out of context the language in some of them was "capable of being misinterpreted".
Health Minister Lesley Griffiths will also appear before the committee later.
'Irreproachable'
She has said the process around the preparation of the report was "irreproachable".
A motion of no confidence in her - tabled jointly by the Conservatives, Liberal Democrats and Plaid Cymru - will be voted on in the Senedd chamber on Wednesday afternoon.
As the assembly's 60 seats are equally split between the government and opposition, the motion would need a Labour rebellion to get through.
BBC Wales understands at least one opposition member - Plaid AM Lord Elis-Thomas - will not be present for the vote.
The motion is non-binding, meaning Ms Griffiths would not be forced to resign even if it passes.
Tory opposition leader Andrew RT Davies said all 14 of his members would be in the chamber for the vote and other party leaders had "to make sure their members are present to vote accordingly".
Welsh Liberal Democrat leader Kirsty Williams said: "We need a health minister who has got a grip on her department, knows what her officials are doing and is providing strong leadership."