Roadworks notices plan dropped after newspapers object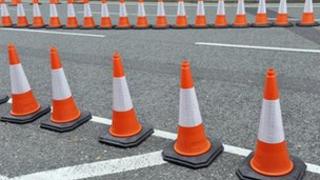 Plans to scrap compulsory newspaper adverts about roadworks have been dropped.
The Welsh government had considered altering rules that force authorities to put newspaper notices warning about changes to the road network.
But the plan has been abandoned after an outcry from newspapers and objections from politicians.
The Welsh government said it would instead take up an offer from the media industry to negotiate discounts.
The proposal was first suggested when the Welsh government announced plans to issue disabled drivers with free blue parking badges in December.
At the time, it said it was looking for "efficiencies" in spending elsewhere to help fund the policy and pointed out that more than £1m a year was spent placing traffic regulation orders (TRO) in local newspapers.
A consultation said the regulations were out of date and that newspapers may no longer be the best place to reach drivers.
It suggested that road authorities have the freedom to choose from a series of options, including publishing information online or distributing leaflets.
Although councils were in favour of the idea, most responses to a consultation were overwhelmingly opposed.
'Democracy'
Twenty-eight AMs and MPs objected as did all 138 responses from media organisations and journalists.
There were warnings that the proposal would damage newspaper revenues, lead to job losses and put titles in jeopardy.
"We cannot emphasise too strongly the impact this would have on Welsh democracy," one said.
In its conclusion, the Welsh government said some people would be disenfranchised, including those without internet access, if notices were withdrawn from local papers.
It said it recognised the role newspapers played, but it was not the government's job to subsidise them.
It added: "The Welsh government also notes that outside of the consultation media groups have recognised the financial pressures all parties are experiencing and will be taking forward their offer of negotiating a discount for all Welsh order making authorities in respect of their TROs."