Severn Bridge toll: Tories' dismay at delayed report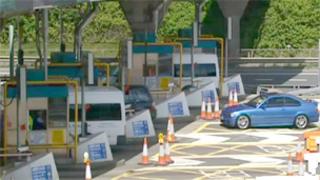 Delays to a report into the economic impact of the Severn Bridge tolls have been criticised.
A study to look at what effect the tolls have on Wales' economy was first announced two years ago by the Welsh government.
Its was initially expected last year, but the Welsh Conservatives said they were still waiting for the findings.
The Welsh government said the report was being checked thoroughly and would be published soon.
Plans to commission a report were announced in June 2010 by the then transport minister Ieuan Wyn Jones who said it would hopefully be published early the following year.
After the report had still not appeared in May this year, the Welsh government said it would be ready in late spring.
Engineering consultants Ove Arup were commissioned to write it.
Critics complain that the cost of driving over the Severn into Wales harms the economy.
Cars are charged £6 to cross either of the bridges, vans £12.10 and lorries £18.10.
The Welsh government has no control over the tolls, although at last year's assembly election the Tories said they would pay to freeze the tolls for cars for four years.
The bridges are run by Severn River Cross PLC and are expected to pass into public ownership by 2017.
'Slipped'
Transport spokesman for the Welsh Tories, Byron Davies said: "We appreciate that the Welsh government's timetable may have slipped slightly due to the 2011 assembly elections, but we are now 18 months on and still waiting for action.
"Welsh Conservatives have repeatedly called for the tolls to be frozen for four years, which would be a welcome gesture to hard-pressed motorists."
A Welsh government spokesman said: "The Severn crossings are a key link in Wales' transport and economic infrastructure and that is why we commissioned an independent report to look at the economic impact of the tolls.
"The report has been checked and peer-reviewed thoroughly and will be published shortly.
"However, it must be remembered that the UK government's Department of Transport controls the level of tolls for both bridges, not the Welsh government."