School holidays: Plan for same term dates across Wales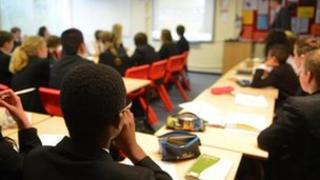 All schools will start and finish term on the same dates under Welsh government proposals.
Ministers want to harmonise term times to make life easier for families who have to organise child care during school holidays.
Parents have complained about variations in term dates, and one union said that can cause "immense problems".
Currently there is no legal duty on councils or governing bodies to work together when deciding on holidays.
The government says conflicting dates can cause problems for families with children at different schools or for parents who work in neighbouring counties.
The Welsh Local Government Association has so far failed to get the 22 councils to agree to use the same dates, which are set up to five years in advance.
Even if local councils were to agree, governors at voluntary aided and foundation schools could still choose other dates.
Education Minister Leighton Andrews wants to change the law so councils and governors have a duty to work together.
Philip Dixon, director of the union ATL Cymru, said: "Proposals to harmonise school dates have been around for years and have become something of a holy grail.
'Obviously ludicrous'
"Different dates can cause immense problems for staff and children," he said.
"There is often little reason why different dates are chosen by local authorities and it is obviously ludicrous that in a country as small as Wales there could potentially be up to 22 different dates."
A bill would also give ministers the power to intervene in setting term dates.
A consultation says the changes would solve the child care problems faced by many families because of awkward term times.
Mr Andrews said: "For example, a family in which a parent/carer teaches at a school maintained by one local authority, but the children are pupils at a school maintained by another local authority, may find in some years that they have significantly different Easter holidays.
"This in turn can mean the family having to source and fund extra childcare from the family budget.
"Similar issues can arise when a family has members associated with different types of schools, where one or more of these works to different term dates."
He added: "Taking this into account, my intention is to harmonise school term dates for all maintained schools in Wales, with variations occurring very occasionally and only where they can be fully justified."
Conservative education spokeswoman Angela Burns said: "While any proposal that puts the welfare of families first is welcome, I remain cautious over the centralisation of yet more decision-making.
"This plan would effectively take power away from local organisations and place it firmly in the hands of the minister."