Business groups call for action on economy after talks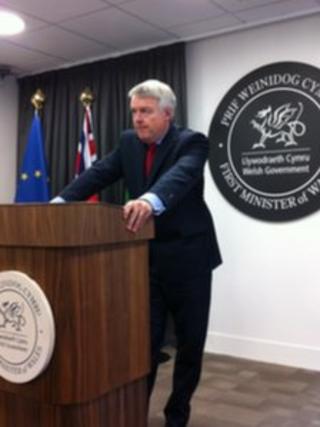 Business groups have called for ministers to deliver on the economy after talks with Wales' first minister.
They spoke after employers and unions met with ministers from the Welsh government.
First Minister Carwyn Jones said putting Wales on the map was vital if it was to compete in the world economy.
In his first press conference after the summer recess, he said the state of the economy would be his administration's main focus for the forthcoming year.
Speaking after the meeting, Iestyn Davies, head of external affairs for the Federation of Small Businesses in Wales, welcomed assurances that governments in Cardiff and Westminster were working together on behalf of the economy.
He said: "Nobody doubts that there's an urgency, that there's an imperative.
"What we still need to see now coming into the next term are some new policy initiatives. A delivery on the old things such as the SME (small and medium-sized enterprises) investment fund which belongs to last year's political programme.
"Do we make sure that we chase down delivery for the economy and businesses in particular?"
CBI Wales director Emma Watkins said: "What we need to see now at a Wales level and UK level is delivery - delivery on key projects to help drive the economy forward.
"We've had a lot of talk. We need to have delivery."
The next month or so would be a "crunch time" for businesses, she said.
'Momentum'
"We probably would want to see more momentum and certainly more delivery. We need to have the action now not tomorrow," she added.
She said the cost of energy was raised as one of the main issues facing businesses at Monday's meeting of the council for economic renewal.
The first minister said he discussed the matter with former deputy prime minister Lord Heseltine, as well as the difficulty of businesses getting credit and the cost of travel between south Wales and London.
The Conservative grandee, who is leading a review into competitiveness for the UK government, was at the meeting, as was UK trade minister Lord Green.
Mr Jones told reporters that the Welsh government needed to improve its presence overseas.
He said that did not mean opening more foreign offices, but could mean staff sharing premises with UK Trade & Investment (UKTI), which encourages inward investment.
He spoke of the need for the Welsh government to deploy staff to key locations around the world.
'Focus and determination'
These included the west coast of the USA and the Persian Gulf, where he said Wales had one official representing it compared to Scotland's 14.
Mr Jones added: "Our absolute focus and determination is to create and protect jobs and to create more opportunities for the people of Wales."
He said he hoped to see an improvement in health and progress in reforming the educational qualifications system during the forthcoming year.
But he added: "Above all we want to continue with the measures we have put in place to provide more opportunities for our young people and get the economy moving."
His comments come after an almost four-fold increase in the number of long-term benefits claimants aged 18 to 24 over the last year.
In August there were 4,455 who had been on jobseeker's allowance for 12 months, compared to 1,130 in August 2011.
On Monday Morrisons said more than 300 people had applied for five vacancies at a supermarket in Caernarfon.