Parents 'happy with schools' despite standards warnings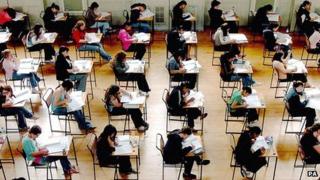 Around 90% of parents are satisfied with their children's schools, despite warnings about the standard of education in Wales, a survey has found.
Satisfaction rates with schools have barely changed in six years.
During that time Wales has slid down an international league table for tests on reading, maths and science.
The findings come in a wide-ranging Welsh government survey of what people think about public services, their quality of life and their finances.
It provides a snapshot of life in Wales that officials say help improve the delivery of public services.
Face-to-face interviews are held with 14,500 people every year as part of the exercise.
The first batch of results from around 3,500 people showed little sign that bad publicity about the Welsh education system was worrying parents.
When asked about the last 12 months, 91% said they were satisfied with the primary school their children attended and 88% were happy with their child's secondary school.
A similar set of questions in 2006 found 93% and 86% of parents were satisfied with their child's primary and secondary schools respectively.
Concern about schools standards was prompted by the worldwide Pisa assessments of 15-year-olds which ranked Wales as the lowest country in the UK in December 2010.
At the time Education Minister Leighton Andrews called the results "unacceptable" and said everyone involved should be "alarmed".
Meanwhile, the number of GCSE entries graded A* to C fell for the first time in a decade this summer.
There has also been a major row between the Welsh and UK governments over GCSEs, with the Westminster coalition criticising Mr Andrews' decision to demand that English exams were regraded.
Asked to rate the state of education in Wales, survey respondents gave an average score of 6.5 out of 10, where zero is extremely bad and 10 is extremely good.
The National Survey for Wales also found:
The average rating of the health service was 6.5 out of 10.
The average score for the performance of the Welsh government was 5.8.
69% of people said it was easy to get a convenient appointment with their GP in the last year.
48% of people can keep up bills without any difficulty - a fall of 7% since the last time they were asked in 2009/10.
25% of people answered "low" or "very low" when asked to rate their satisfaction with life.
A Welsh government spokesman said: "It is pleasing that the results show people are extremely satisfied with services delivered by GPs and schools.
"We are committed to making sure our decisions and actions take into account the views of people across Wales.
"Only by listening to the people of Wales in this open and robust way can we address areas where people express more concern."